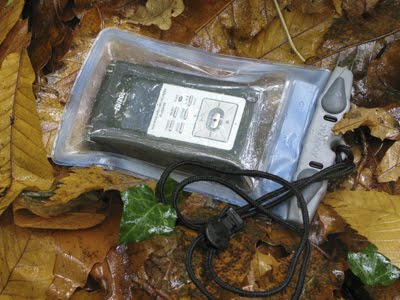 Going back a while, I put together a review of the Aquapac PDA case for the GBP Blog. You may remember it. That video and write-up were so well received, and subsequently pushed around the social media world so much, that I thought I'd make mention of them one more time – for those of you who might have missed them.
In a nutshell, here was my dilema…
Having the technology I use day-to-day is all well and good, but there comes a time when it needs a little helping hand in more extreme environments. For example, the audio recorder I use for the podcast, like so many electronic devices, doesn't look too favourably on the rain; suffice it to say, this is an assumption and I don't wish to test the theory – but for piece of mind, I set out to find some decent protection for the thing.
Enter Aquapac, who produce all manner of dependable covers and cases. I have been aware of these guys for many years, and originally took the opportunity to catch up with them at the Ordnance Survey Outdoors Show a year or so back. Jump forward a number of months and they suggested their 100% waterproof PDA Case for my particular requirements.
Here, then, is my short video so you can see and hear the test for yourself:
Several details are not mentioned in the video, as I wanted to keep it fairly brief, but for your reference:
This case will float in water, and is submersible to 15ft (5 metres)
It has an optically-clear rear panel, good enough to shoot photos/video through
You can use your PDA stylus as normal right through the case
A stylus holder is built-in
The product model reference/number is Small PDA Classic (344)
You can also check out more more from Aquapac on their Facebook page
Category: Product tests and reviews