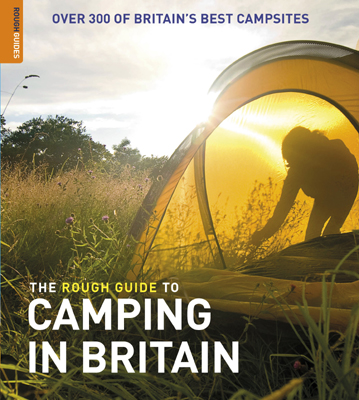 I always think that the May Bank Holiday signals the start of camping season proper here in the UK. Of course, if you're a hardened outdoors type, you'll most likely have already braved the elements and slept under canvas (or equivalent) by now – but for the greater population, here is the start of the good times!
In terms of my work, particularly my photography, this is when I begin to get excited about new locations and all of the great imagery I have yet to create over the summer months.
Books are a wonderful resource – especially when it comes to finding new outdoor places from which to base my activities. I'm a big fan of camping, as many of you know, and my ongoing search for related information recently led me to a great title – The Rough Guide To Camping In Britain.
The introduction to its 390 colour-packed pages does a great job of summing up what you should expect: "This book contains some quirky and unique places – if you want to share your porch with a llama or stay on Britain's most remote peninsula, you've come to the right place."
From there onwards, you are treated to a range of super-clear maps, high-quality captioned photographs and information break-out boxes, which will do a great job of answering a great many of your initial questions about the 300+ featured campsites.

The book is basically divided into location-specific chapters – Devon & Cornwall, Southeast England, Cumbria & the Lakes etc – interspersed with advice sections covering all manner of related topics such as equipment, campsite cuisine and festivals. There's even a double-page spread devoted to glamping for all you folk who just can't bear to be parted from your creature comforts!
As you'd expect from Rough Guides, the tone and language throughout is very user-friendly. Rather than simply saying 'here's a campsite and here is a list of its facilities,' what you get is a comprehensive overview not only of the sites themselves, but of the surrounding areas and places of interest. There's even a smattering of history in there, to inspire all you Mums and Dads when it comes to deciding which places to take the kids to whilst on your camping break. This also carries the additional advantage that, armed with such jewels of knowledge, you'll also sound like a proper brain-box, too!
You can flick through the pages of this excellent book by following this link to the Rough Guides website.
Want a free copy? No problem! Thanks to those lovely people at Rough Guides, The Active Photographer has a copy (worth £16.99) to give away to the crafty so-and-so who can come up with the best suggestion in the caption competition which runs from Monday 2nd May 2011 until 11:59pm (GMT) on Thursday 12th May 2011. So be sure to check back to be in with a chance!
Category: Product tests and reviews