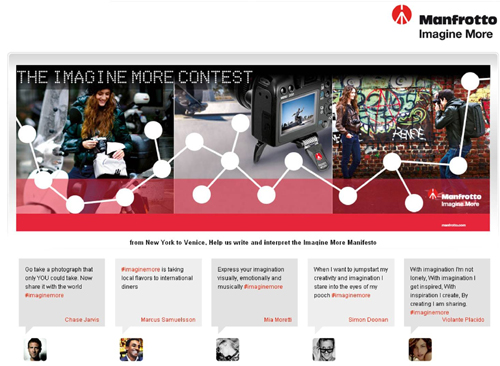 Update, 12.10.11 – The winning film debuts at Venice Film Festival
No doubt you've all heard of Manfrotto, the manufacturer of excellent professional tripods, tripod heads and lighting accessories. For one thing, you know I'm a big fan and I frequently talk about their kit right here on The Active Photographer!
But have you heard about their latest move to bring the creative community together – the Imagine More Manifesto?
The Manifesto is just a single part of the Imagine More Initiative, which includes a contest designed to give people across the globe a chance to "redefine 21st Century creativity, walk the red carpet and be recognised at the 2011 Venice Film Festival."
Taking as its starting point the question of what "Imagine More" means to you, it all kicked off a short while back with a single tweet by Chase Jarvis – "Go take a photograph that only YOU could take. Now share it with the world #imaginemore"
I had planned to bring you news of all this before now, but clearly fate had other ideas, instead striking me down with lurgy when I should have been putting together and sending out a post. But fear not – there's still plenty of time to get involved and your deadline is 15th July!
The contest is now in it's second part, which runs until 15th June, and gives you the opportunity to express and share your imagination by uploading your best photos to www.manfrottoimaginemore.com, Facebook and Flickr.
Here's the best bit, in Manfrotto's own words: Two winners – one from each part of the contest – will receive an exclusive trip to Venice for the next Film Festival. During the prestigious cinema event, the Imagine More Manifesto – a short made by the famous photographer and director Bill Frakes using the winning text contributions (tweets) and photographs from the Imagine More Contest – will be shown for the first time.
So, what are you waiting for?
Follow this link to submit your entry or, if you fancy, register using the Facebook App.
Good luck!
Category: Competitions