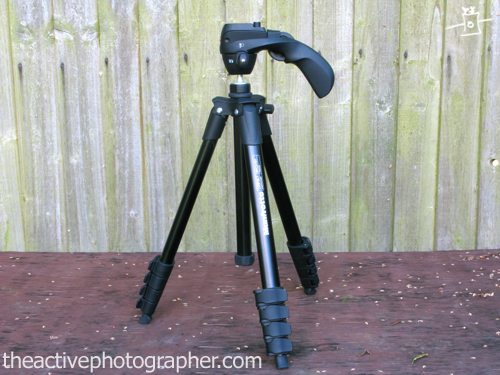 You know what it's like. You're about to head off on a photography day trip, an excursion which you just know is going to reward you with some great pictures… but then comes the inevitable quandary of just what to take.
First thoughts, of course, turn to kit. What camera/lens/sandwiches you pack in the ol' bag is all important (hint: sausage and tomato sauce on wholemeal is always a winner!). That's the easy bit.
But then a conundrum. Do you pack a tripod? Hmm.
Ok, at a push, maybe a monopod will do – so long as all you're wanting is a little extra support compared to what hand-holding offers. But let's face it, if size and weight wasn't an issue, we'd all choose to pack our regular tripod 'just in case'. Longer exposures, self-portrait opportunities… the world would be our oyster.
But – and here's the thing – good, solid, decent tripods tend to be a bit… how can I put it… awkward, when all you want is to travel light and take in the view.
There is a huge range of tripods and grip equipment on the market these days, and by far one of the biggest names in the business is Manfrotto. I've used their kit for years, but for some reason I've never got around to purchasing a truly portable tripod.
Over the past few months, I've been taking a look at the MKC3-H01 Photo-Movie Kit, which stands proud in the company's 'Compact' series line-up. I've used it for everything from supporting my point-and-shoot for behind-the-scenes video and stills, to seeing how it copes with a professional-spec Nikon DSLR (note: Manfrotto recommends a maximum camera weight of 1.5kg/3.3lb for this model).

Weighing in at just 1.1kg (2.5lb – ie little more than a bag of sugar), it's pretty easy on the back and when folded down measures just 46cm (18.1 in) so takes up very little space. This, I think, is key to its success with regard to photographers who are on their feet all day, for example walking hills or country paths; it will easily fit inside a day sack, along with all your other bits and bobs.
So why 'Photo-Movie'? Well, just take a look at the area surrounding the ergonomic handle, which has 3 key features…
First of all, that handle sports a rather snazzy rubber roller wheel which, operated simply by the use of your thumb and forefinger, allows smooth and secure locking of the ball-and-socket-style head; back to release, forward to lock.
There's also a quick-release button, which allows you to remove your camera (attached to the supplied quick-release plate) in record time. In my experience, some designs of quick-release mechanism are better than others; for example, this particular one works far better, for ease of use, than that on a particular £400+ head that I can think of. More about this in a future Test/Review post.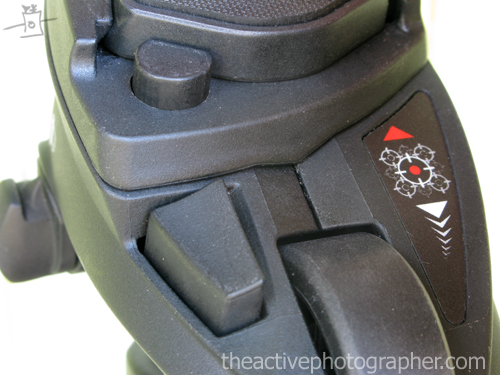 The built-in head section does feel kind of plasticy – something I picked up on as soon as I took the tripod out of the box. Ok, so the central component of the ball-and-socket assembly is metal and solid – but still, I like to be reassured. That said, you've got to remember this isn't a high-end, bulletproof heavyweight; it's designed with a certain level of use – a certain lever of user – in mind, so this is pretty much to be expected.
Next, we come to the 'photo-movie selector'. At first I wasn't sure; I could see what Manfrotto were getting at, but I really couldn't see the point. The basic premise is simple enough – when shooting video, you only move the camera in the up-down/left-right axis, so with this feature, the head can be locked to prevent full 360-degree movement. Big deal, right?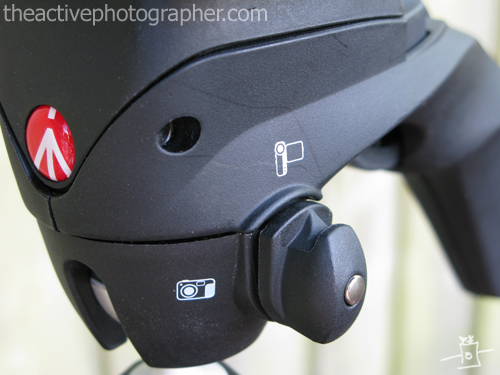 But think about it. If you were to shoot on a bigger camera, and therefore a bigger tripod, you would choose a pan-and-tilt head for this very reason. So long as you aren't going to be attempting any diagonal pan shots, you'll be fine; if you are, just turn the switch to the 'photo' setting and you're good to go.
On the subject of panning, I had another initial concern. Although the action is smooth, the metal-on-plastic sound of the head is audibly noticable, and so you'd expect this to be picked up by a camera's built-in microphone. But, to my amazement, this wasn't the case when tested with my Canon G9, which I've always found to be particularly sensitive to incidental noise. Of course, if you're planning to add a soundtrack over the top of your video footage, this is not going to be an issue anyway.
The head's free movement can be a bit frustrating when you're trying to set up in a hurry, and getting it into the position for vertical shots only works when tilting to one particular side, not the other (one offers a 90 degree angle, the other 45 degrees approx.). As an improvement for future models, a simple lengthening of the shorter side's travel area would easily solve this. Like I say – not unbearable, just frustrating at times.
At full extension, to reach a height of 154cm (60.6 in), the legs are pretty wobbly on this Compact model – but this may not be completely surprising, given several factors. The Photo-Movie Kit is a light-weight tripod, which employs light-weight tubing for its legs; 4-section tripods are always less secure than their 3-section counterparts; raising the centre column to its fully extended position places maximum strain on the column itself (far more sensible is to leave it – and therefore the weight of your camera – as close to the central hub as possible). To get around these concerns, you could always suspend your camera bag from the hub, which does a great job of anchoring the tripod firmly to the ground.
Conclusion: This is great little tripod if all you're wanting to support is a either a compact camera or small (ie lightweight) DSLR or video camera. Whilst it can be used with heavier cameras, I don't think that's where its talents necessarily lie, although I would happily pack it for lightweight use with my D3 in conditions where I could be certain it would remain well routed to the ground.
Build quality is what you'd expect from Manfrotto and as such you'd be well advised to give this model a good look, rather than settling for an inferior product by a less well-developed brand. When it comes to supporting your camera, it's a fool who cuts corners just to save a few quid; save your pennies up and get the best you can afford.
Despite my concerns above, the head/handle design of this tripod is essentially a good one, and perhaps I'm looking at it from a somewhat over-informed position as a full-time photographer. I would, though, certainly recommend you also take a look at the MKC3-P01 Photo Kit, which instead uses the proven design of a traditional ball-and-socket head. That model also saves you around 3cm in length when closed.
Category: Product tests and reviews