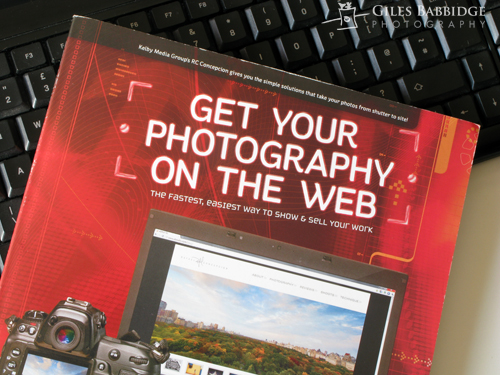 With the countdown to Christmas now under way, a lot of you are going to be thinking about what might make a good stocking-filler for your photography-loving friends and family.
The beauty of photography right now is, of course, that it's so very immediate and so easy to share. Facebook, Twitter, Flickr, blogs, websites… the outlets are all there.
But what if this isn't a natural progression for you? What if you love the idea of sharing your pictures but don't have a clue where to begin? What if you want to start making money from your photography online but, again, don't know how to go about it?
Get Your Photography On the Web is a Kelby Training book aimed at the beginner, and Rafael 'RC' Concepcion writes in a very natural 'I' and 'we', down-to-earth way. There's a bit of humour in there, which compliments the bright illustrations really well and at each turn of the page, you actually feel like you might just get the hang of this self-publishing lark.
One thing that is perhaps a surprise upon reading the first few pages, though not necessarily a negative point – RC makes the point of being very specific in his recommendations. For example, following his guidance, you'll be registering a website domain name and space with GoDaddy then setting up your site using WordPress. Read into this what you will. These are actually two great suggestions, but you might not wish to go with them (to be honest, I'd say take the advice!).
Progress through the book is logical. Chapter 1 walks you through setting up a domain etc and with that complete, Chapter 2 does a great job of pointing out some key considerations regarding preparing your pictures for the web (sharpening, sizing colour space, meta data, watermarking etc). With basic website content added, you'll no doubt want to tweak things to keep it all nice and tidy; good job, then, that RC goes on to talk about plug-ins, menus, HTML and site themes.
When it comes to Chapter 8 – the matter of selling pictures as prints – there are again a number of supplier suggestions. This is great if you are in the US, but for everyone else… I'm afraid it's most likely time to make your own enquiries about companies closer to home. "You're a photographer – you should be out taking pictures! Let someone else do the heavy lifting for you" is a fair enough point; just bear in mind the carriage costs and fulfillment times if you do take the Stateside route!
For those who want to step things up a bit, the book rounds off with a look at producing flash portfolios, how to use social media to spread the word and the wonders of adding web galleries with FTP (File Transfer Protocol). All very useful and clearly explained.
Personally, for me, one of the highlights of the book is the series of 'Along the Way' case studies scattered throughout. With the likes of Joe McNally, David Hobby, Scott Kelby and more, you know you're in good company; nothing beats hearing from real-world people, those who are actually out there practicing what they preach.
Get Your Photography On the Web is one of those books where you can dip in and out quite easily, so don't be surprised if it gets a little rough around the edges though regular use, like the copy depicted in the picture above!
Retail price via Amazon.co.uk is currently £15.65 – so not exactly breaking the bank, and I'm sure the information this buys would be much appreciated by anyone on the receiving end this Christmas. 
Category: Product tests and reviews