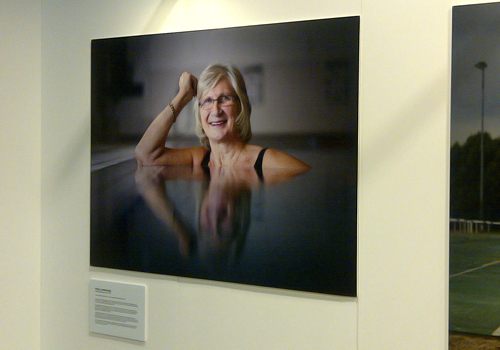 I was recently invited to the Private View of Golden Greats: Britain's Oldest Olympic Gold Medallists – the exhibition of a collaborative project between Drew Gardner and Lucinda Marland.
As you might expect from Drew, the show is a somewhat humble affair, which leaves the quality of the work to speak for itself. This is exactly the sort of show I like.
What is it that viewers will take away after seeing the images? Well for me, the large-scale prints (made on a Canon LFP) perfectly illustrate the way in which portraits should be lit – often very simply, one light at a time, drawing the viewers' attention directly towards the subject. The colours are lovely (I like to see natural tones, as you know), the print spacing is just about perfect and the four accompanying short videos add just the right amount of back-history for additional context.
Perhaps because it played to the research I am currently doing ahead of a forthcoming shoot, the image of Anita Lonsbrough (swimmer) stood out. The shallow focus combined with flattering soft light really sticks in my mind; add to this Anita's engaging facial expression and you have a winner. But that's just me – no doubt you would find resounding qualities in this and other pictures, too.
The show (supported by Manfrotto, among others) is displayed in the Stadium Suite at John Lewis in the Westfield Stratford City Centre and runs until 20th March 2012. Not an extended stay, then. However, if you are passing that way, I would certainly recommend you stop by; you'll also get a great view of the Olympic site (which is especially striking at night).
For a little of the behind-the-scenes surrounding the exhibition, you can take a peek at this post on Drew's blog.
Oh, and I must make a quick apology for the quality of my phone snap here – believe me it does not do justice to the exhibition print!
Category: Shows and exhibitions