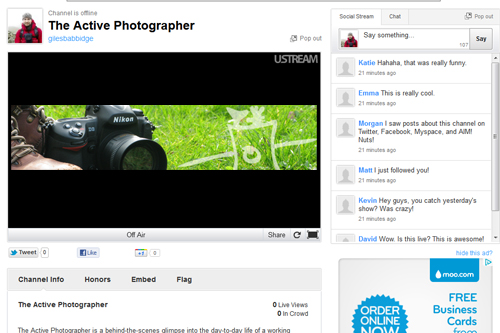 Ok, so I'm going to try something a little bit different this week.
On Thursday 15th March at 7pm GMT, I will be hosting a live online chat.
Specifically, the conversation will be centred around this year's Focus on Imaging show, at least to get us started. It'll be a two-way deal, so get your thinking caps on and be prepared to ask all the unanswered questions which were buzzing through your heads in the build-up to the show. No doubt you also have lots on your mind following the event, so this would be a great time to bring those ponderings to the table, too.
Here's the direct link to where the chat will happen.
To find out what time the chat will be live wherever you are in the world, hit this link.
The chat will last 1 hour, but doesn't have to be solely based around Focus On Imaging; it can be about photography in general, outdoor activities, photo-/outdoor kit, The Active Photographer, my day-to-day work, anything that is on-topic.
For this first trial broadcast, I'm getting the ball rolling via USTREAM. You'll need to be signed into your Twitter account in order to ask questions (which will appear in the on-screen sidebar), but please feel free to watch if that's more your thing.
It's all very exciting and if you guys like it, I'll look into making these chats a more regular event. I've already got other ideas up my sleeves – for example you could watch me working minute-by-minute on location at my photo shoots – but as ever, your interaction and feedback is what counts.
So please do spread the word and let's make this first foray into live chat a great one!
Category: Live chat