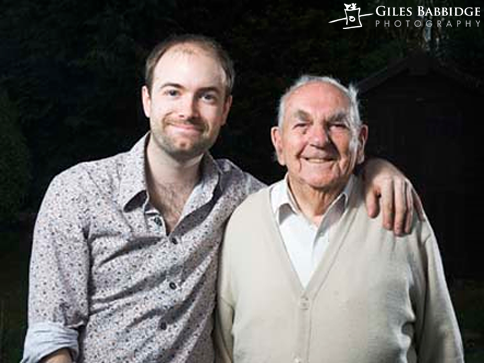 Today carries with it a certain poignancy. You see, my Grandad would have been 101 years old and so, as well as pausing for thought, it gives me an excuse to share a post I put up to mark the occasion this time last year.
For those who didn't see that post, I talked about one of the last 'proper' photographs I took of my dear old Grandad – ie not simply a snap – which I arranged to mark his 97th Birthday, the year before he died.
And so…
The backdrop for the pictures was the rear garden of his house; with a bit of privacy and so many happy memories there, it was the ideal setting.
Past experience had shown me that taking a 'posed' picture of my Grandad was akin to photographing a young puppy – I would often find myself with a maximum of just a few short minutes before he decided it was time to move off to get on with other more 'exciting' activities; thankfully, I quickly learnt not to take this reaction personally!
With this in mind, I set up the lights in advance, making full use once again of the wireless capabilities of the Nikon Speedlight system.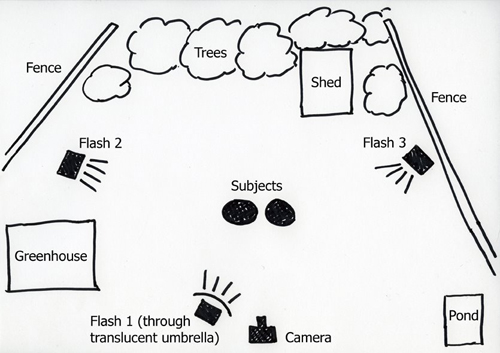 The diagram here shows the basic arrangement, viewed from above. As you can see, the main light was fired through a translucent umbrella; I often use this approach as it provides a clean and flattering diffused illumination which softens the skin nicely.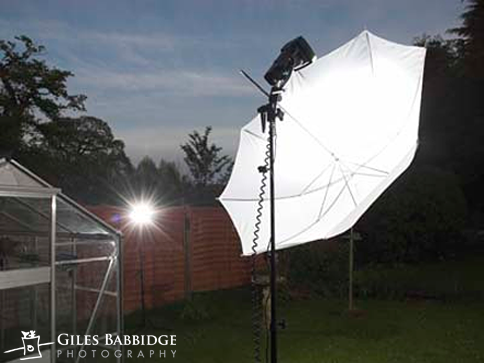 Behind the two of us were placed 2 other (bare bulb, SB-800) flash units – one either side, each at approximately 30 degrees, creating a nice rim light and giving clear separation from the background. This would have been accentuated even further had our clothes been darker.
For the keener-eyed amongst you – yes, you're quite right, the main light is in fact a Metz, not a Nikon. Simply put, the Nikons were set to fire off the Metz, thanks to the SU-4 hack. If you haven't heard about this excellent feature, I'd recommend you take a look at this page over at Strobist.com, where David Hobby gives a great run-down of it.
With hindsight, would I change anything? Quite possibly, I might have brought the ambient light levels up a bit (controlled by shutter speed, not flash) in order to show more detail in the shed behind. Also, the one thing that has always niggled me is the position of my hand on Grandad's shoulder – not so much where it is, but the fact that it looks a little bit 'detached', a la Thing from The Addams Family.
So why did I take the picture? It's quite simple – the whole reason we create pictures in the first place. Regardless of subject matter, every image is designed to be memorable, meaningful, impactful in some way. Of course this process is subjective to varying degrees – the photographer's beliefs, his/her stylistic preferences, even one's state of mind at the time of capturing the image – all can influence how pictures turn out.
Every picture has a purpose, it's own story to tell.
On this occasion, I simply wanted to document the fact that my Grandad had reached such a great age. The caption would read nothing more than "Giles with Grandad in the garden on his 97th Birthday". In years to come, as I already am, I will be able to look back on these photographs and remember the happy memories of that day and of the years that led up to it; the times we spent together in that place, the fun we had.
And therein lies photography's greatest strength – the ability to capture moments in time, no matter what content fills the frame. It is there to preserve those moments for the benefit of future generations.
Technology is wonderful – but it is merely a tool which allows us to realise our visions.
Category: Family occasion photography, Location photography, Technique