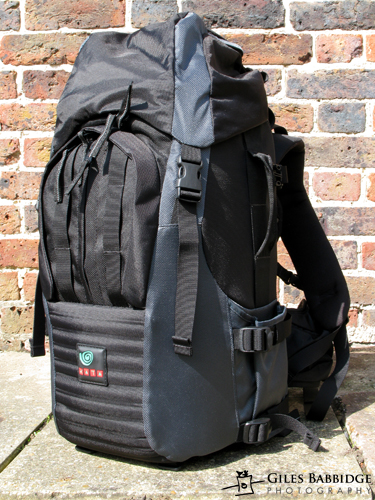 When I first accepted this bag for review, I hadn't seen it 'in the flesh' but I did have a very real question I was hoping it might answer.
You see, the quandary that a great majority of photographers face when heading outdoors is how to carry both their outdoor kit (waterproofs, flask, lunch, accessories etc) and camera gear (DSLR, lenses, flash guns etc). Travelling light is the key, so a bag which can comfortably hold everything is a must.
But let me make one thing clear from the start. I know full well that this offering from KATA was not designed with the above needs in mind; it is first and foremost a one-camera-one-lens-plus-accessories arrangement aimed at those who use big telephoto lenses (TLB stands for Telephoto Lens Backpack and 300 relates to the transport of a 300mm telephoto lens or smaller).
So why would I want to test this bag in such a way? Well, us photographers are a resourceful bunch, and it's not unusual to hear tales of how we adapt our existing outdoor/photography bags to suit our needs on the trail. In reality, though, my initial plan was put to one side, simply because the TLB-300 is, in my opinion, too big for purpose. Bulky is not good on a windy hillside.
So, let's look at what this bag does have to offer…
One of the first things you'll notice is the construction. It's substantial – with a tough abrasion-resistant outer, good stitching around hi-stress areas (straps, pockets etc) and reassuring inner padding secured by tried-and-tested Velcro fastening patches. This attention to detail is what we've come to expect from KATA and is by far one of the strongest selling points.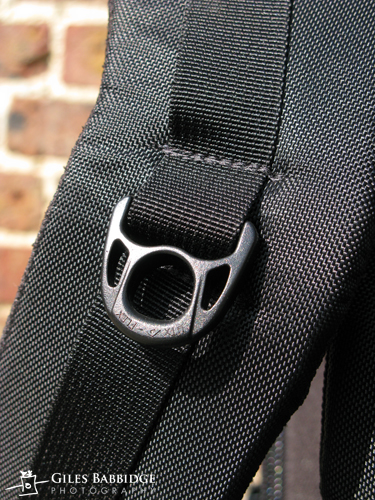 On the exterior, you get a large pocket for carrying a water bottle or accessories on each side, a single small zipped pocket on the front and plenty of loops to attach additional pouches or karabiner clips if required. A removable 'cap pouch' compartment sits on top, which can also be mounted on the base.
Round the back you get a sturdy 'traditional'-style harness system, complete with lumbar pad, sternum strap and removable 6-point adjustable waist strap featuring two zip pockets. Much better, in my opinion, than the newer Gecko EVA foam harness straps featured on the Bumblebee 220-PL Backpack.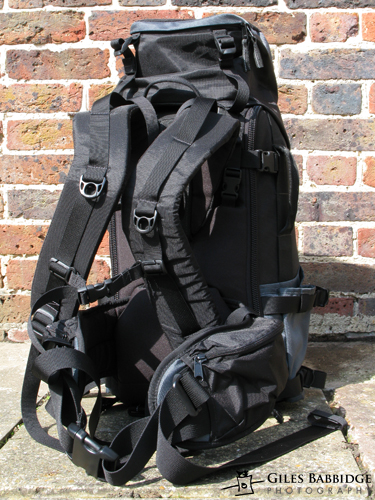 A rain cover is also supplied; it's of a detachable design (rather than built-in/fold-away), as is the handy tripod sling.
In order to support such a big lens, you're given a number of sturdy dividers to arrange. The U-shaped padding goes right up against the point where lens attaches to camera, a square-shaped divider sits under the lens and a long divider wraps around its circumference to keep it in place. Pretty simple, really. We like simple.
For smaller lenses, you sit the camera/lens towards the top of the bag with the square divider conveniently creating a small compartment for additional accessories. This works great when delving into the fully open bag but, even though I could unzip just the top area for quick access, the route to this was, by default, blocked by the camera setup. Not so quick or convenient – and it's all too easy to miss precious shots as a result of the need for such fumbling around.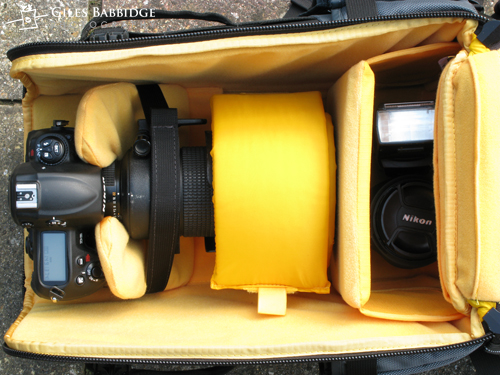 Which leads me to my single biggest criticism of the TLB-300, which has to do with access to this main compartment. Although it may seem good on paper, I would find it incredibly frustrating, not to mention impractical, on a long-term basis. In principle, the design is a good one; a single zip which runs the full length of the bag from one side of the base, up around the top and down to the other side of the base. As such, you are able to easily get to the whole compartment in one go, without the need to remove any padding, inner compartments etc.
In practise, though, I really didn't like the way the rear panel, complete with shoulder and waist straps, folded back in such a way as to push the base of the bag inwards – at the same time leaving those straps dangling onto the (potentially very wet/muddy) ground beneath. Some people might not be bothered too much about this, but for me it was a real negative point – one which was only exacerbated by the fact that the zip action was continually interrupted by the side quick-release buckles.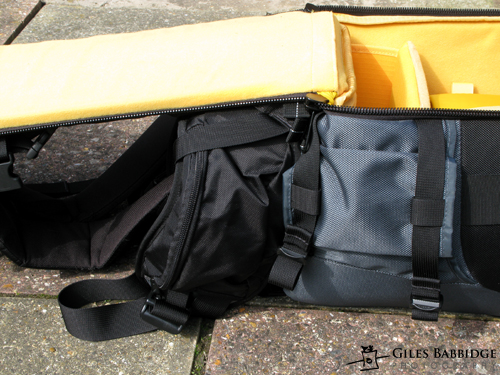 Aesthetically, the bag isn't much of a looker from the outside – which isn't a bad thing when you're trying not to attract attention to your photo gear. On the inside, you'll find KATA's trade mark bright yellow colour scheme which is very handy when working in low-light conditions as cameras and lenses show up really well against it. In terms of how it shows the dirt? As I've said before, over the long term, I think a more neutral option such as grey or black would be more suitable for those venturing into the more wild outdoors regularly.
So what's my overall conclusion about the TLB-300 Backpack? Whilst I don't deny it does a great job of protecting camera gear, this clearly wouldn't be the bag for me. Realistically, I feel it's best suited to photographers who simply need to transport a big lens setup to a static location (say, a wildlife hide or football pitch sideline), take the camera out and put the bag to one side for the next few hours.
As much as it pains me to say it, for my money this is another example of a product which falls a little short of the mark because, as much as it is not without its good points, some aspects have been unnecessarily over-engineered to the degree that they actually over-complicate what is essentially a very simple product.
Category: Product tests and reviews