I never get tired of seeing my work published in books and magazines. That's the first thing I want to say.
The second is to explain how nice it is to be reminded of previous work which sees the light of day again, some time after its initial use.
I was recently sent a couple of glossy brochures by Goodwood, both featuring a picture I had shot a number of years ago at the Revival.
Historic racing fans will no doubt recognise the leading car here. I'm no expert, but I believe it's a Ferrari GTO. Frankly, when these things hurtle at speed around a track in front of my camera, I'm more concerned about freezing the action!
Anyway, I just wanted to share these with you…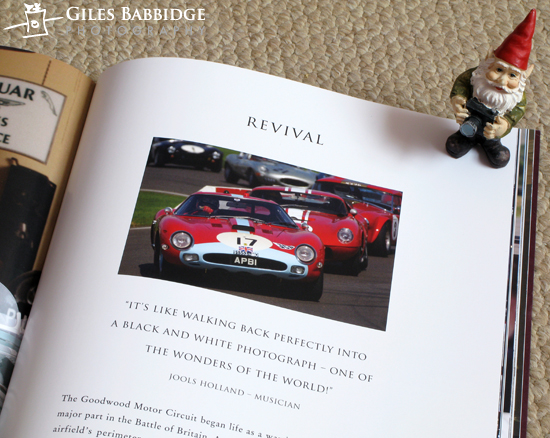 The first use of the picture, above, is an insert on the first of several pages promoting the event. In real terms it measures about 5 1/2″ x 3 1/2″ and accompanied by text.
From memory, the image was captured on a Nikon D2H, handheld and sporting an 80-200mm f/2.8 ED-IF AF-S with 2x tele converter attached (effectively doubling the focal length).
The second appearance is at A3 size, double-page spread. I just love the way it fills that space!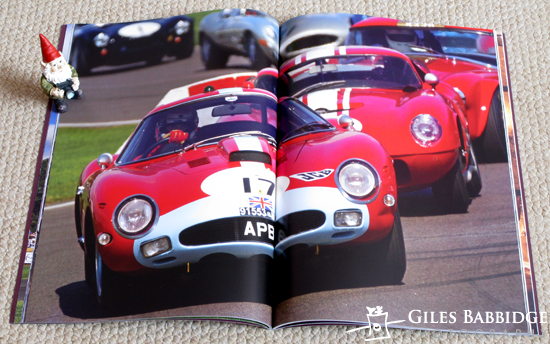 I have literally thousands of vintage racing pictures shot at the Goodwood Revival over the years, and I never get tired of shooting more. Yes, we often see the same cars and the same lively characters, but it's not just about the thrills and spills on-track; it's the atmosphere, the period costume, the feel-good factor of stepping back in time. Quite a spectacle, if you've never gone!
Some would call the event a photographer's dream. For me, it's the knowledge that year-on-year, I will come away with a fresh set of striking images that will be used all over the world in PR, marketing and more for many years to come. I also take satisfaction from the fact that I can always see progress in my work as a photographer.
I wonder where this year's pictures will end up?
Category: General