I never get tired of seeing my work published in books and magazines. Here's another quick example, further to this post…
Ok, so you know that as ever, I was recently under commission from Goodwood at this year's Revival event. The pictures I shot were destined to end up all over the world, in sponsor reports, websites, internal publications and more – but there was one additional photo request which came out of the blue.
Sat in the Press Office on the Saturday morning of the event, a freelance colleague and I were discussing the previous day's action. Specifically, we were talking about the first ever evening race, which had begun just as the sun was beginning to set and ended at a time when it was difficult to see the cars hurtling round the chicane, apart from their lights.
Long story short, he had been discussing the race with one of his contacts at Classic Car Weekly  and had mentioned that I was there, capturing the action. A quick glance at the back of my camera (memory cards still contained the previous day's pictures) confirmed that I had a number of shots which were of interest… And so came the request to supply a couple of them for one to be featured in this week's edition of the publication. Well, who was I to say no?
A quick email on Monday morning and what you see below is the result.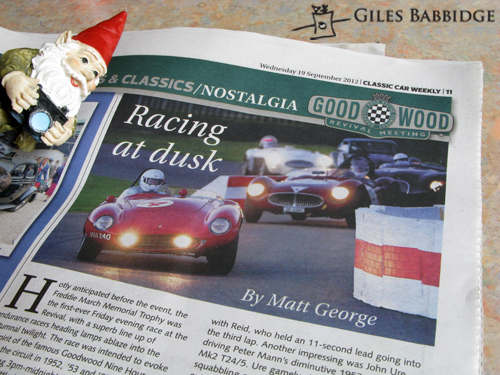 Sitting at my desk at this time, I was reminded of last year's event – and a similar situation. Funnily enough, it was the same colleague who put another publication (Octane Magazine) directly in touch with me. Again, I had a specific picture which would fit one of their forthcoming stories perfectly – featuring Doug Nye interviewing John Surtees on the start grid.
Here is how it appeared on the page…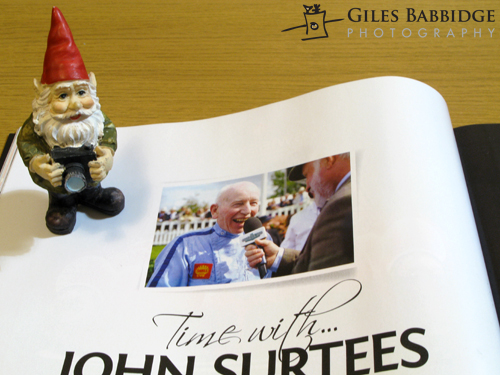 If you haven't guessed by now, I really enjoy my time at the Revival each year. Of course, I don't get to see where even half of my pictures end up once they are submitted, but I always come away from the event with a smile on my face.
The additional usage of my pictures in places like those above only serves to add a cherry on the top of my long, productive days at Goodwood – and it'll be interesting to see what surprises present themselves next year.
Category: Event photography