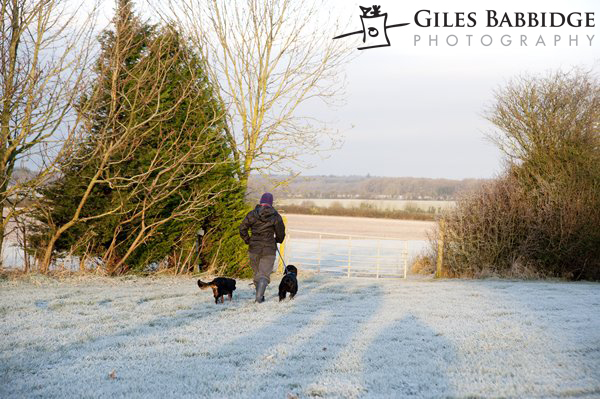 There can be nothing worse in the world of outdoor photography than to have the desire to get out into the fresh air to capture great images, only to face constraints which hold you back.
Sounds like a profound sound bite, doesn't it? Maybe you'd like to quote me on that one day – but for now, I want to talk about making the most of the next few months.
It's no secret that I love this time of year. Much more than the summer, actually, and just a smidge more than spring. For one thing, my argument is that if you're cold, you can always get warm – but if you're too hot, it's often difficult to cool down (especially whilst out working on location). And as many of you will know, overheating is definitely not the photographer's friend.
So here I am, sat in my office with the rain lashing at the windows, preparing for the next few months of cooler temperatures. For the first time this year, I've had a need to slip on my rather excellent Mountain Equipment Touchstone Jacket – and with it came a wry, knowing smile.
So what's all the fuss about? Well, in a visual sense, the photo opportunities over the autumn/winter months are simply superb. With the sun lower in the sky, the landscape (and subjects posed in them) comes to life with warmth and texture. Ok, so you might have to brave the weather – but just think of the rewards!
Actually, the weather should not be a reason for putting your outdoor trip on hold. Kit is king in the world of comfort and, no matter what your budget, there are ways to make sure you stay warm and dry whilst out and about. Same goes for keeping your camera gear protected, too.
The old expression, "There's no such thing as bad weather, just the wrong choice of clothing", really does resonate as the seasons change in the months leading up to – and beyond – Christmas.
But a discussion on the relative merits of various photo/outdoor kit is not the point of this post. The message here is: memorable excursions and stunning pictures are not going to make themselves happen. You have to make the effort to place yourself where they exist (or at least have the potential to exist) – and the first step to this is finding a location.
For those of you who missed it the first time around, take a look at the short video below, which I put together following a short weekend trip to Dorset last February. It was arranged by a number of people I know within the outdoor community, a chance simply to spend time with likeminded people and make some nice pictures in the course of our activities.
Now, tell me that sunrise light doesn't look amazing, and well worth the -4 degree night before and early-morning start! Ok, so this isn't everyone's cup of tea, but it is just one example of the sort of opportunities that are out there, just waiting to be enjoyed.
Incidentally, you might also like Episode #57 of the podcast, which goes into more detail and this short post which originally introduced the video.
So, what about if you don't fancy driving/camping/walking in the freezing cold? Well, how about keeping it local? Head over to a nearby woodland or hillside for a few hours; one camera, one lens and possibly a tripod is all you need. Or just the camera on your phone, if you want to travel even lighter. The kit is not the point!
Keep it simple and just lose yourself in the atmosphere and your thoughts. If you need an angle, set yourself a photo project, get friends or family involved, whatever.
Maybe you would prefer to go just a little further? Fine – pick a place which is within a maximum radius of, say, 25 miles and make a day of it. Take a packed lunch and the all-important flask of tea, as well as the same camera gear above (possibly with the addition of a second lens for variety). Additional clothing might also be an idea, to make sure you're prepared for any sudden changes in the weather.
One of the things I have always loved about the outdoors is the simplicity of throwing a few items in a small rucksack (just enough to keep me going for the day) and heading out to explore an area. Of course, I often now turn such trips into podcast episodes or online content of one form or another, but they are a great way to fuel my love of the outdoors life.
So, look. We've got a great few months ahead of us – and the potential for fun times and great photography abounds. It's all too easy to curl up on the sofa when the world outside looks less than inviting – but again, just think of the feel-good factor of being outdoors, right in the heart of the elements!
If you really must stay indoors, just make sure you make the most of that, too – get researching, get planning, get inspired!
This post was inspired by a chap called Al Humphreys. I first came across his micro adventures this summer and in particular this video. To my mind, he is spot on in what he says and I would encourage you to take a leaf out of his book at the first opportunity. He also seems like a thoroughly nice bloke (though I've never had the pleasure of meeting him in person).
I never get tired of listening to/chatting to/reading about inspirational people and Al would be a great reference if you're thinking about really kicking off your own outdoor exploits this autumn/winter.
Category: Location photography, Video