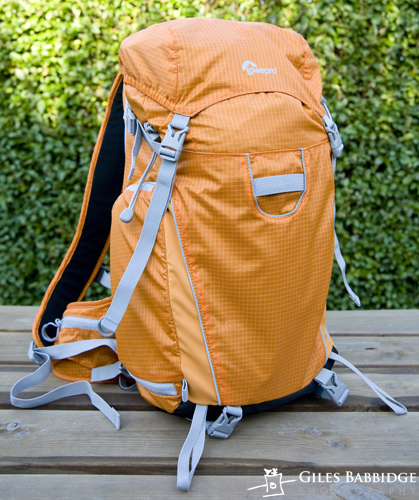 The first thing you need to know about this bag: I love it. Not quite the answer to my prayers (perhaps you might see a future Test/Review for that) – but given its intended purpose, my goodness, it comes as close as any bag I've tried out in recent years.
Whenever I look at a bag of any kind, I have a series of questions which have to be satisfied in order for it to be considered a hit:
1. Is it comfortable to carry?
2. Is it a practical, easily accessible design?
3. Are there any key features which have been overlooked, given its intended use?
I've been using this particular offering from Lowepro for a good while now, in all manner of weathers through all seasons and it has performed brilliantly. Mostly, it has accompanied me on trips through woodland, hillside and coastal locations, where a bare minimum of outdoor- and photo kit is required. For location scouting, it's near-on perfect in this sense.
Designed for "adventure sport athletes who love photography… who like to go fast and light – but equally like to capture the moment". That's how Lowepro bills it and you can really see where they're coming from.  For one thing, the bag's style looks more like something you'd see on a rambler's back, rather than having the appearance of an out-and-out photography rucksack. Quite a revelation, really. Same with the colour (although you can also get it in black, too, for less of an assault on the senses!).
At 1.3kg unloaded, it weighs next to nothing, relatively speaking, and benefits from a very simple design. Outer dimensions are 27cm W x 16cm D x 46cm H approx. On the inside you get 19.5cm W x 9cm D x 23cm H approx. to play with. What this actually gives you is up to 13.9 litres of storage space in the top-loading compartment, which is separate to the camera compartment.
The key feature in the overall design is a side-access Ultra-Cinch Camera Chamber™ – allowing storage of your camera with lens attached, along with a flash or perhaps a small second lens (something like a 50mm prime lens, for example). It also allows super-quick access; just slip out of the right shoulder strap, rotate the bag round your waist and voila – your camera's right there! More on this feature in a while.
Numbers, feature lists and colour options are all very well – but how do these translate in the real world? Let's take a look at the exterior first.
Starting at the top, you get a single small zipped pocket , ideally suited to items such as keys, phone, snack bars etc. The zip is protected by a 2cm-wide rain flap, which I have found to keep the wet stuff nicely at bay. Behind this, in between the main compartment and the back panel, is a dedicated hydration compartment, suitable for reservoirs up to 2 litres volume (not supplied) .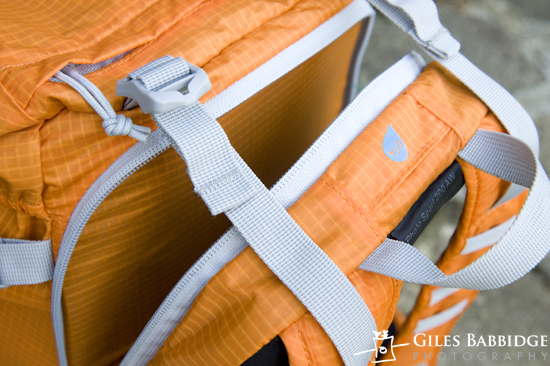 Elasticated draw-cords and webbing loops are of a good length and practically placed for securing walking poles and the slightly-expandable front pouch offers more than enough space to store your wet-weather gear so that you don't have to open everything and dive right inside just as the rains begin to fall. Running the length of either side is some subtle reflective piping, too – a nice touch with dusk/night cyclists in mind.
Putting colour aside, the 200 AW's rip-stop fabric is itself reassuringly tough to the touch and has a perfectly acceptable water repellency; not once have I found moisture to seep through when caught out in a shower. Thankfully, all webbing straps and buckles are of the sensible variety (I really do get frustrated when manufacturers over-complicate such fundamental components) – meaning that the access to- and securing of all compartments is fast and trouble-free.
On the right-hand side of the bag (see left image, below), there's a handy material pocket with elasticated top which has some give in it. Perfectly suited to a flask, water bottle or small accessory pouch, I have also found it works well as a convenient place to store a small tripod; just be careful not to put anything sharp inside, because common sense suggests it will go through the bottom when you're in a rush.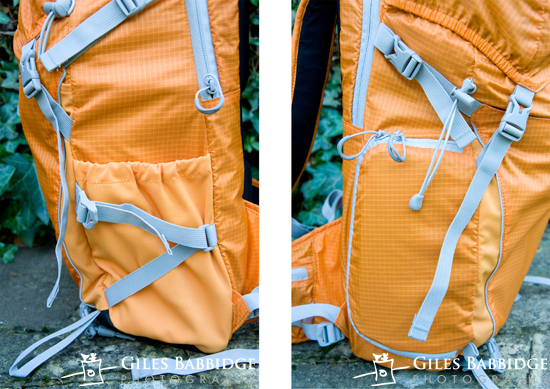 And so we come to that Ultra-Cinch Camera Chamber™…
Now, Lowepro claims this should be able to fit a "pro-sized DSLR with a kit lens attached". Hmm. In my experience, this compartment does not comfortably fit a D3/D4-spec camera with anything larger than a 35mm prime lens attached. If we were to consider a smaller-bodied machine, however – something like a D800 (without grip) – this would be another matter. So by this token, I suppose it's a matter of interpretation, as the D800 is now used by both pros and serious amateurs alike.
For my typical set-up of a D3 attached to a 24-85mm, there's plenty of space inside the main, top-loading compatment, on top of the padded Chamber. A word of caution if you do this, though – whilst it does get around the issue of carrying a larger combination, be aware that there's no additional padding inside – so a secondary pouch can act as a stand-in if required. Please don't rely on simply wrapping a fleece around the camera!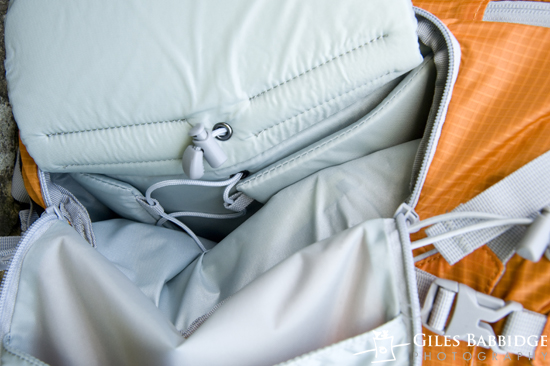 That said, the Ultra-Cinch design is very clever, and does exactly what it claims. Once the camera is nestled within the Chamber, all you have to do is pull up the tab to release the velcro (see top picture, above), then pull on the draw-cord on the reverse side (bottom picture, above). And, hey-presto, a cocoon of padding magically tightens around all that lovely technology! Thankfully, even with a D3/35mm in place, no unecessary stress is put on the outer zip.
At the very base of the bag are a couple of features which will be of interest to both photographers and outdoors enthusiasts alike…
The first thing to point out is the built-in waterproof cover (All Weather, as denoted by the AW in the name) – something which has thankfully become a regular component of Lowepro's bags over the years. It is coloured grey, to match other areas of the bag, and tucks neatly away under that black panel; once out in the open, it snuggly fits all around via an elasticated edging. Some of you may not like the fact that it is not detachable, but I suppose you could always cut off the attachment tab if it's really that much of a pain. But, frankly, you're not gaining any great amount of storage space by removing it, so why bother unless you have a very good reason?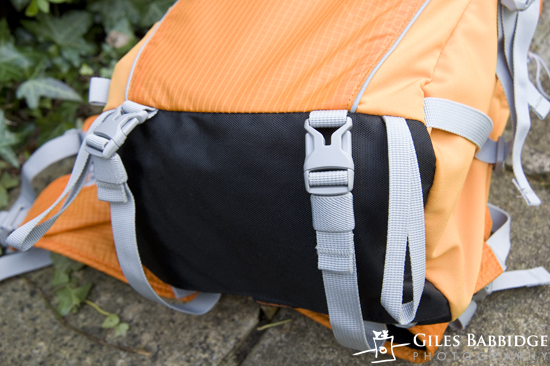 Secondly, those quick-release straps – perfect for securing a lightweight tent, roll mat or bulkier items when heading out on longer trips. They will also comfortably hold a tripod, too – although, do watch out for narrow spaces as you're walking! Note how there's not too much spare strap hanging around, as is often an oversight by rucksack manufacturers.
Round the back, it's business as usual. Clean, simple design with flexible (i.e. comfortable) straps and plenty of places to attach karabiners and other accessories is the order of the day. Elasticated tabs also hold your hydration tube securely in place.
The back panel itself is a molded, contoured airflow design which lifts the pack off the body. In practise, this really does add to the comfort and breathability factor over the course of a few hours or days.
The waist belt sits at a good height and the two zip pockets are of a good depth – enough to hold a phone, keys, loose change etc. One feature I really like, although easy to overlook on first inspection, is the emergency whistle built into one of chest quick-release buckles; although I've never had the cause to use it, it's good to have on stand-by. Good thinking, guys!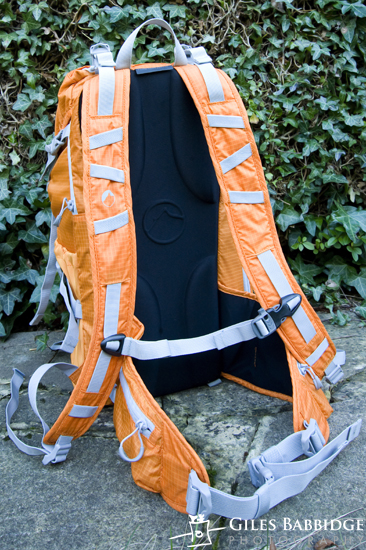 So, in conclusion:
Regular listeners of The Active Photographer podcast will know that I still use one of Lowepro's original Mini Trekker AW backpacks on occasion. Whilst the Photo Sport range is not a direct replacement, you can clearly see the heritage and the way in which the company has listened and adapted to its customers.
Is this 200 AW for you? If trail running, mountain biking, hillwalking and other outdoor activities are your thing (and I suspect they might be, along with the desire to take pictures), then you should definitely give this bag a look. Whilst it doesn't have vast chambers of space for storing large amounts of equipment (this was never its purpose), there certainly is plenty to satisfy a day out in the fresh air.
The limiting factor of storage space is actually a very good thing, I think. At the end of the day, you should be out there enjoying your adventures, living them for the fun and satisfaction they provide; the last thing we want to encourage is the desire to pack a shopping list of items which you most likely won't take out of the bag on the day.
Category: Product tests and reviews