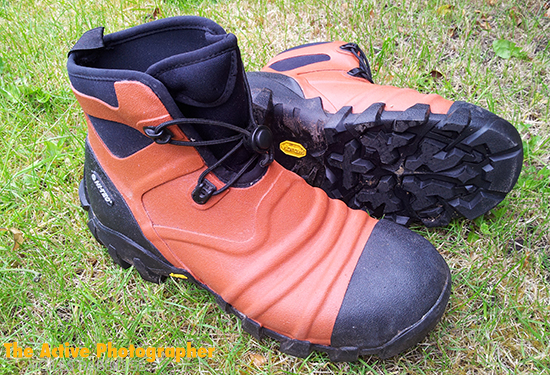 As it looks like the summer has finally reached us in a convincing fashion, now would be a good time to reflect back on a product which I've been using regularly throughout the past months – the Hi-Tec Para Boot.
The first thing you notice about the Para is undoubtedly its colour and rugged construction – so let's talk about these elements first.
From the moment I opened the box, the striking red colour was clearly a feature which set this apart from any footwear I've seen for some time. Make no mistake, there's nothing subtle about Hi-Tec's colour choices here – the red option being one of four colourways, including vivid yellow!
But colour choice, whilst more important to some users than others, of course shouldn't be the focus of your footwear selection. Comfort is king, first and foremost, and with an Ortholite sockliner as standard (which offers anti-odour and anti-microbial properties), the Para felt super-comfy straight out of the box. This didn't change, regardless of a range of conditions including rain, snow, below-zero temperatures and occasions when the temperature climbed to a more reasonable level on the scale.
As I've mentioned in previous Test/Review articles, nature gifted me with pretty narrow feet. Well, just as with the Hi-Tec V-Lite Infinity HPI shoes which I wrote about here, the Para offers a reassuringly snug fit, but with a generous amount of room around the toes. In winter time, deep in snow, this thankfully did not equate to cold digits, as has been my experience with other manufacturers' wider-fitting boots in the past.
And whilst we're on the subject of comfort, let's not forget about grip. After all, much aside from everything else, the purpose of a good boot is to keep you firmly rooted to the ground.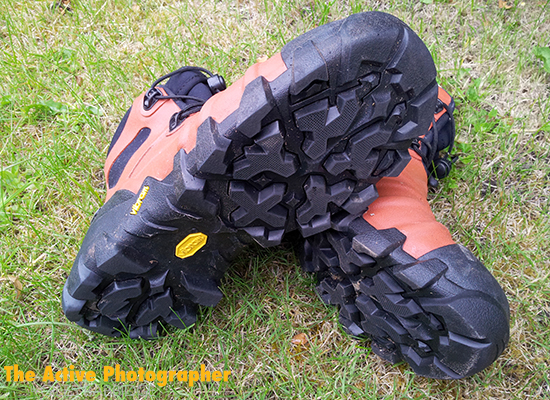 The Para comes with that tried-and-tested stalwart of the walking world – the Vibram outsole. In the poorest, slipperiest conditions, this came into its own, displaying an equally fantastic gripping quality on ice, muddy trails and rain-sodden pavements. Very impressive.
Uneven terrain was taken care of nicely, thanks to the chunky tread of the soles – never any suggestion of the 'pivoting' effect you can sometimes get with more traditional 'flat tread' designs.
If there is one fault of this boot, it has to be the lack of breathability. In itself, not surprising, and not a production fault by any means. Rather, due to the nature of the durable rubber upper, I found there was a tendency for my feet to overheat by the end of any excursions of longer than around three hours.
And whilst my socks didn't exactly look or feel as though they'd been sat under a running tap, the effect was similar to what you get when puddle water briefly creeps into your boot. This is a shame, because my feet would have otherwise remained perfectly dry.
Another great selling point of this boot is the fact that you don't have to mess around with laces – quite a blessing on cold/wet/windy days on the trail. Instead, what you get is a toggle system. Upon tightening up the single tubular lace (which is held in place by four tough lugs on each boot), it's nice to see that you're not left with too much excess to soak up moisture as you walk.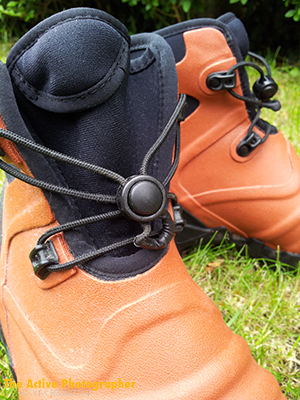 The neoprene tongue is generous in size, but tucks in without creating a ridge of excess material. On its front, you get a handy little tab which is great for quick loosening when taking the boots off.
I'm a great fan of using gaiters when heading out on the trail – especially in woodland and in the cooler/wetter months of the year. The more observant amongst you will notice that, because the Para doesn't have a standard lacing system, there's no way to clip gaiters into place down towards the toes. But fear not – gaiters actually work just fine!
In my experience, with the under-foot strap secured in place, no more water got up and under my gaiters than I have experienced when using laced boots.
So, how to conclude?
Whilst the breathability issue of this boot is something of a negative point (although not altogether unexpected), there are far more plus points to make the Para a real alternative to what you might have been used to in the past.
Most likely, the Para is going to be a like/dislike boot as far as many people are concerned. 'Traditional' ramblers will be tough converts, unlikely to shift any time soon from their full-leather/nubuck footwear, but equally there will be a certain demographic who really do fancy a change.
One thing is clear, though – this boot is perfectly suited to situations where you want to keep your feet warm and dry for a few hours and has the distinct advantage of being quick to put on and remove.
Category: Product tests and reviews