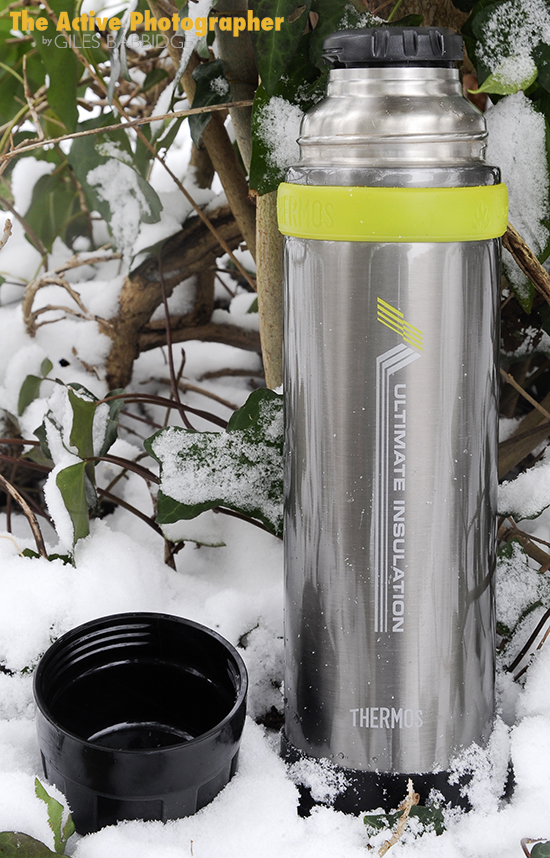 As temperatures begin to head southwards, thoughts must surely turn towards preparing for a comfortable autumn/winter. I make no apologies for the fact that I jump at the chance of heading outdoors in the cooler weather – either for professional activities or with my family.
For anyone willing to brave the cold, apart from clothing and shelter, I would always recommend packing a decent flask in which to carry a warming drink or meal such as soup.
Having given this little offering from Thermos a good testing for some time now, I can happily report that it does indeed live up to its promise in a wide variety of conditions. Thanks to the Thermax® double walled vacuum insulation, I have found that tea, for example, really does stay hot for 24 hours.
Available in two capacities – 0.5l and 0.8l – the first thing you notice when picking up this flask (apart from its impressively modest 382g weight) is the dent-resistant outer wall. Whereas many of the flasks you will have seen in the past are solid in construction but prone to denting due to their rigid build, the Ultimate actually flexes when pressure is applied. Cleverly, it simply springs back into shape, with no sign of the force applied (assuming no sharp edges were involved in the impact).
The subtle graphite colour somehow adds to the quality feel and the wildlife watchers/photographers amongst you will also appreciate this when it comes to not spooking your subjects – the dull finish does a great job of reducing bright highlights and reflections.
I was interested to hear that Thermos still caters to the large market of customers who favour a glass-construction flask. Clearly, for my use, this would not be an sensible option. Personally, I like the rugged design of the Ultimate, with its rubberised base and knobbly grip on the lid/cup – both of which aid use in cold and wet weather.
My only real criticism of this model is that the protective silicon ring you see towards the top does have a tendency to slip out of place in cooler/wetter conditions. For me, it's not a deal breaker and I should say, in no way does it affect the temperature retention of the fluids inside. Yes, it does aid grip, but only when remaining firmly in place.
In terms of actually pouring a drink, the 'pour' feature works very well, with virtually no spillage. This is a relief, because I've never liked the half-unscrewed-stopper design of flasks for this very reason. Again, a great benefit given a number of factors in adverse conditions and, to top it off, the stopper has never got stuck as a result of fluctuations in temperature (where the rubber seal expands).
So, all in all, a highly-recommended product which has performed time and again – no matter what I've thrown at it. Just in case you should require further reassurance, though, it's worth knowing that the Ultimate flask comes with a 10 year guarantee. How's that for piece of mind?!
Category: Camping, Location photography, Product tests and reviews