If you didn't see Part 1 of this article, you definitely should; it will give you an introduction into just which items I carry (and why) for supporting my cameras/flash guns/light modifiers etc.
In this second part, then, I'm detailing the individual items described in the overview linked above. In no particular order…
Standard spring-loaded clamps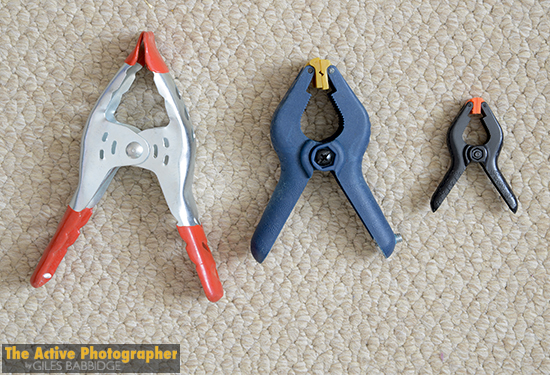 There's nothing special about these clamps. Absolutely standard, the sort of thing you might use to hold a tarpaulin down over a vehicle. I find them invaluable for securing backdrops. I have them in various sizes and 'grip strength', but it's the biggest, red-tipped metal ones which have proven to be the most versatile and durable; they also feature holes which allow further customisation on location – such as attaching bungee cords.
Rope (climbing grade)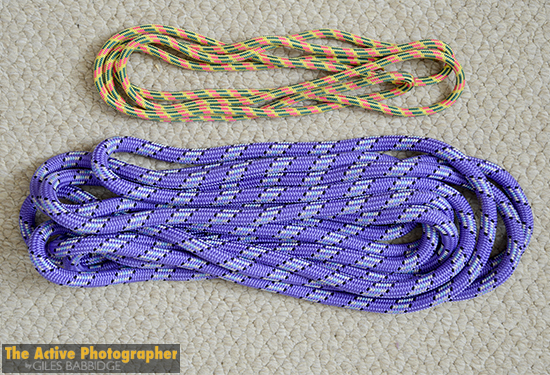 Used mostly for lashing tripods and lighting stands to permanent structures (for example, trees and fence posts), the rope I use is pretty strong. By using climbing grade, I can be sure that it will take a lot of weight – far more than I'm likely to subject it to, actually. Different colours/thickness enable me to distinguish between the two quickly and in low light situations.
Bungee cords (various lengths)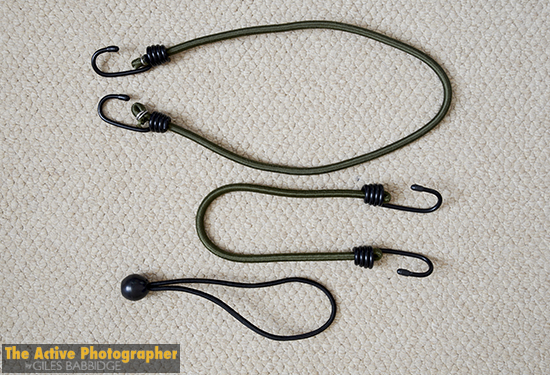 These are great for adding tension when securing items. When I set up a tarp as overhead cover on location, for example, bungees keep the material pulled taught, ensuring that rain rolls off efficiently. Other uses of bungee cords include lashing lighting stands, securing kit being carried on the outside of backpacks and rooting down objects which feature within my shots.
Cable ties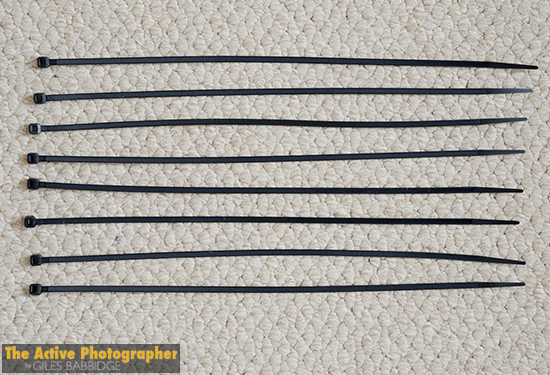 These are used when permanent fixture is required; in order to release an item, the ties have to be physically cut. They are also really handy for quick on-the-spot repairs; on one occasion, for example, I noticed the exhaust bracket at the back of my car had worked its way loose during my travels; I simply secured it with a couple of cable ties, keeping it safe until I was able to get to the garage.
Duct tape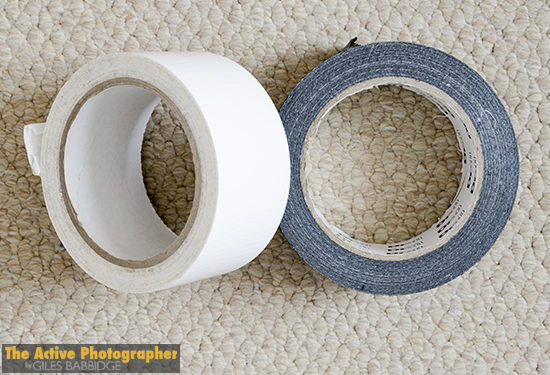 Ah yes, the item many would call the ultimate, most invaluable piece of grip kit! Buy it in bulk and never be without a roll of this stuff – you'd be amazed at just how often it is required. From securing backdrop paper or material to covering up unwanted shiny components (such as metal clamps), the number of uses for duct tape (and electrical tape – see below) are never ending.
Manfrotto Magic Arm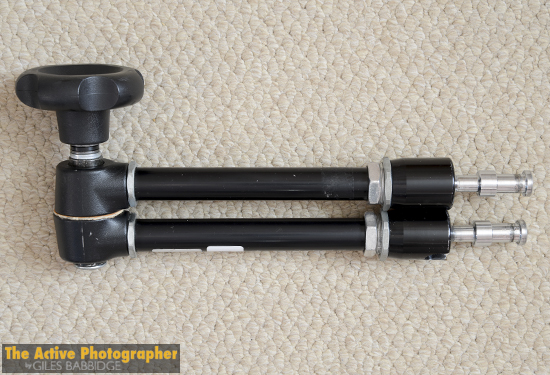 The Magic Arm is designed to be used in conjunction with other grip items, in particular the Super Clamp (see below). It is a great piece of kit which allows me to secure cameras, flashes, reflectors, gobos and more in virtually any position. Available in a number of configurations, I favour the 'twist knob' model, as it is more compact and so less likely to get caught on other items once in position. I frequently use the Magic Arm as a way to support lighting or behind-the-scenes cameras around photo shoot sets.
Manfrotto Nano Stand (x2)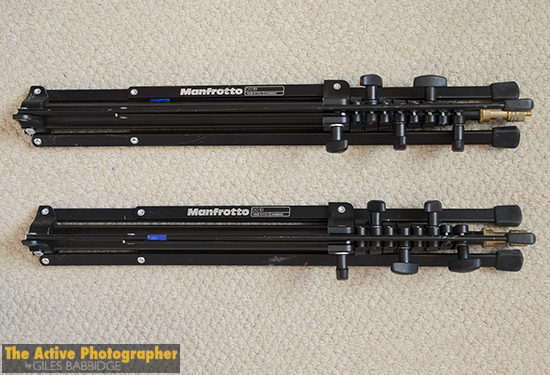 This is the model frequently favoured by photographers on the go. It is lightweight, quick to set up and easily positionable when time and space is in short supply. I have a bunch of these, although just two live in my Peli case (one for each flash gun used in a typical 2-light setup). They also share the same fittings as Super Clamps, adding to versatility. One thing to keep in mind is that they can blow over fairly easily in a strong wind – so the use of sand bags is strongly advised when working on location.
Clamp brackets (x4)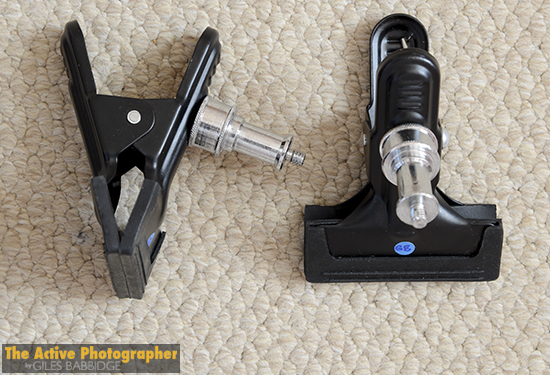 These are similar to Justin Clamps, and hold a lot of tension in their jaws. I tend to use them either attached to Super Clamps or as stand-alone ways to secure flash guns and behind-the-scenes cameras to flat surfaces such as tables and shelves. They're also handy for securing backdrop fabric in studio setups.
Manfrotto Super Clamp (x3)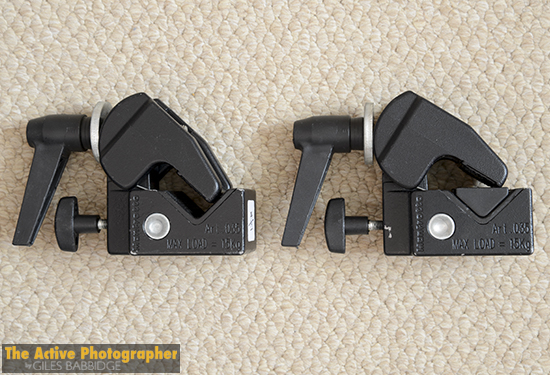 One of my favourite items, I cannot tell you how many times these have been brought into use. As discussed above, all manner of accessories can be attached to Super Clamps which, in themselves, can be attached to varying surfaces of differing shapes. Simple to use in the field, I also often pack one in a rucksack, along with a ball and socket head, to act as a quick tree-mounted support in woodland, on hillsides etc.
Benbo ball & socket head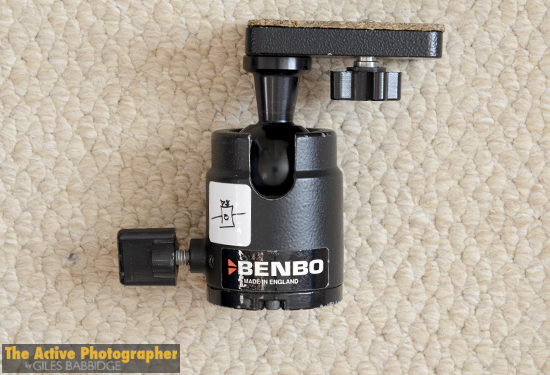 This is a pretty old head, but the principle is simple enough – it offers great versatility for securing cameras on top of brackets. Tension-adjustable, it has helped me out many times over the years.
Hama mini ball and socket head (x2), plus hotshoe adapter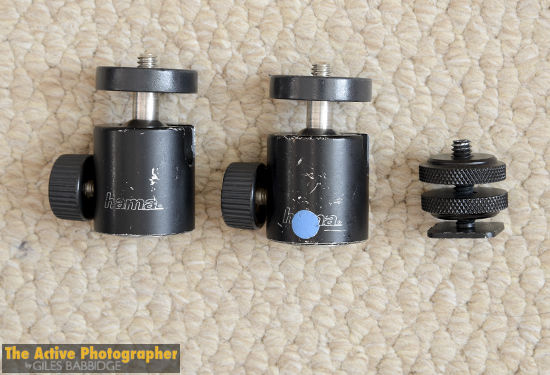 In my experience, these heads are really only good for supporting lighter-weight items such as flash guns and compact cameras. That said, despite their modest construction, they are incredibly dependable. As for the hotshoe adapter – this allows me to mount small video cameras to the hotshoe of my DSLRs, in order to film point-0f-view behind-the-scenes footage on shoots.
Manfrotto camera bracket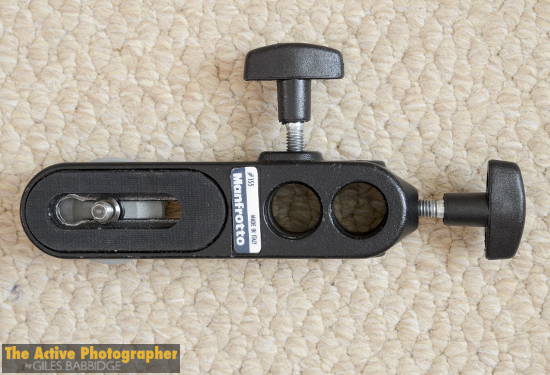 A sturdy platform, used in conjunction with the Magic Arm etc, this can easily take the weight of a professional DSLR with sizeable lens attached.
Manfrotto light stand bracket (x2)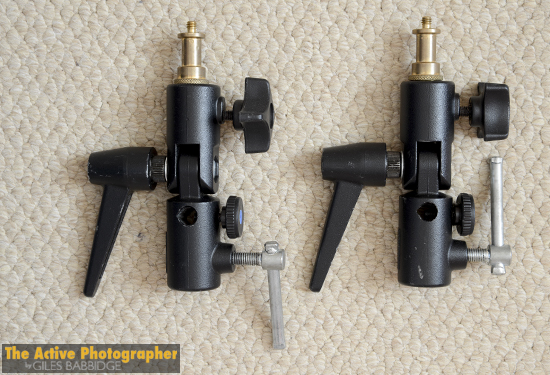 These sit on top of the Nano Stands, with flash guns attached. The holes you see in the lower sections allow for the use of photographic umbrellas.
Spare parts for stands and clamps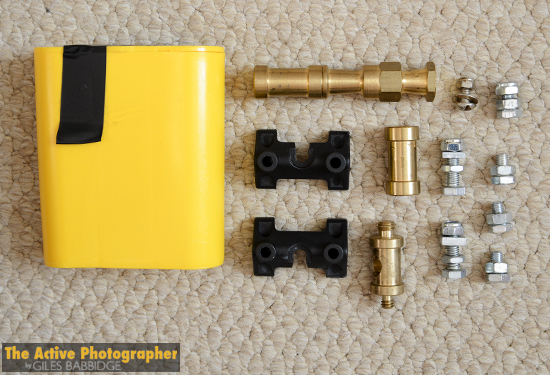 It's always good to carry spares!
Electrical tape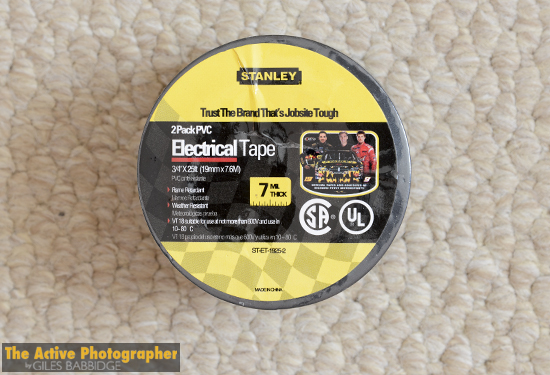 Much like duct tape, electrical tape has come to the rescue more times than I care to remember. Featured here is a two-pack of black tape (which is subtle, as it blends in with other items of kit).
Pocket Wizard Plus II trigger (x4)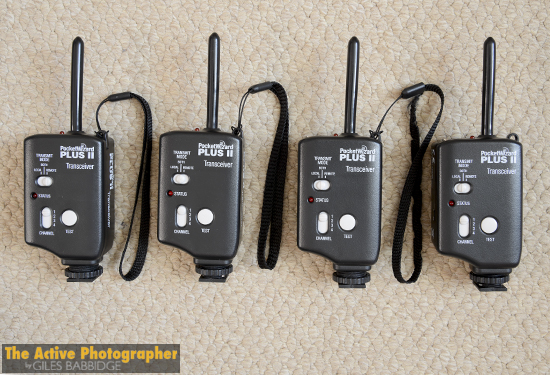 Although not strictly really grip equipment, I tend to leave these in the grip case as it's all used at the same time. The triggers are most often used to remotely fire flash guns (at a distance of up to 1600 ft), although they can trigger cameras, too.
I hope that little lot has been of use – of course, do let me know if you have any questions!
Category: Location photography, Studio photography, Technique