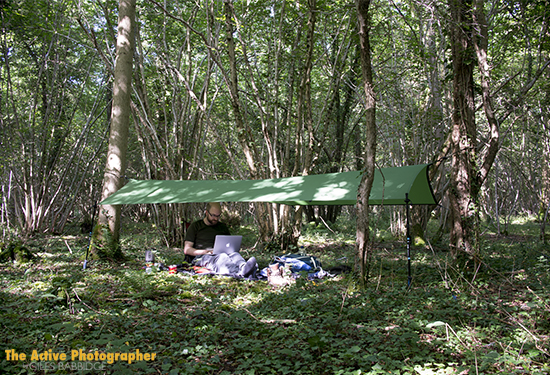 A lot of you will be aware that whenever I head out on the hill or into woodland, I always pack my lightweight tarp.
It is such a versatile piece of kit and offers great protection from the elements – whether that be sun, rain, wind, snow, whatever. I'll be writing in greater detail about tarps at a later date, but for now…
I recently spent a day in one of my local woodlands, cracking on with the writing of my yet-to-be-fully-revealed book. Needless to say, my surroundings were quite the inspiration, made all the better by being comfortable in the shade.
Note to self: Next time you prepare to head out and the weather turns humid like it did that day, remember to pack the mossie net, too! (I still have the bite marks for my efforts).
Anyway, below are a couple of short videos I filmed whilst there – recorded on a point-and-shoot camera for convenience. The first is a time-lapse, documenting the setup of the tarp itself; the second is a brief overview of the other kit I packed for the day.
Quick tip when viewing: Make sure you hit the HD setting for best quality; for some reason, YouTube wants to cut off the bottom of the frame in other settings. That said…
Enjoy!
Category: Camping, Location photography, Microadventure, Technique, Video, Writing