As I write this, I'm sat in my car overlooking one of the many footpaths that line the south coast. On a fine day, this route is one of my favourites; you can follow it for about 2.5 miles, camera in hand, stopping for lunch at one of the local pubs overlooking the water before heading back. Time it right and the tide will be gently lapping at your feet as you re-trace the shoreline. Perfect.
Today, though… Well, this is my view: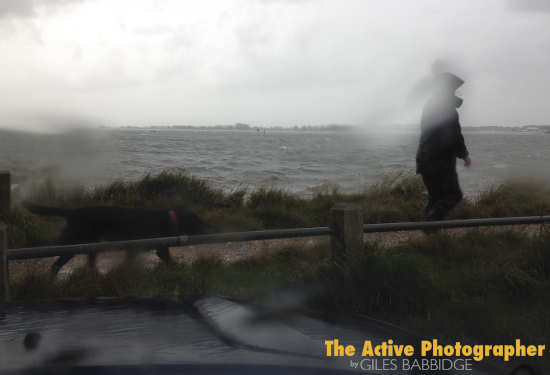 Much respect to the intrepid dog walker!
As the temperature steadily drops and the rain lashes against my windscreen at the mercy of a blustery wind, I think it's safe to say that Autumn is finally here. And you just know that winter won't be far behind!
Truth be told, I love this time of year and the cooler temperatures actually suit me better. I always reason that if I'm too hot, it's often difficult to cool down but if I'm chilly, it's really quite easy to warm up.
Of course, comfort is a relative thing and I appreciate that not everyone will have the best gear available on the market. But regardless, the rule of thumb is: buy the best you can afford. With a little thought, it isn't difficult to be super-cosy when heading outdoors in even the harshest conditions.
When it comes to protecting your photography gear, too, it stands to reason that if you're going to be walking through wind and rain, your camera is going to get wet. At the very least, common sense would suggest keeping everything in the bag right up until the moment it's needed. Many compact backpacks such as the Lowepro Photo Sport 200 AW come supplied with a pull-out waterproof cover, which adds further protection to their contents.
So, with the cooler and wetter months in mind, I thought it would be an idea to revisit this article which I wrote for the Wex Blog towards the end of last year. It's a fairly comprehensive read – but do let me know if you have any questions.
Now get out there and have some fun!
Category: Location photography, Technique, Writing