One of the conditions I always stipulate for any item considered for Test/Review is that it must be something I would use in the course of my activities. So as you might imagine, items of clothing which will keep me comfortable as I go about my business are always of interest.
Roll back some months to last summer. It was a warm one for sure, and I was preparing to once again spend several long days putting together features at the Goodwood Festival of Speed in West Sussex. With this in mind, and having discussed the Katmai Light shirt with the lovely folks at Paramo earlier in the year, I suggested that the event would be the perfect starting point for a long-term test of this garment.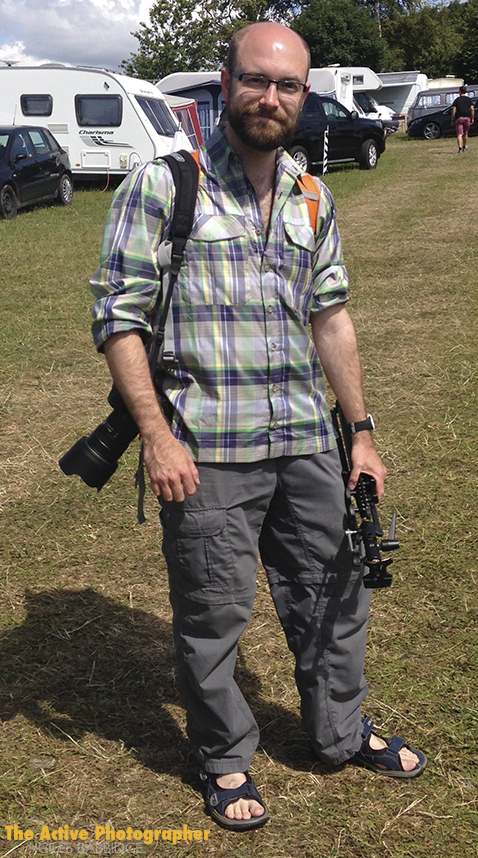 Duly, two arrived – one in each of the colour ways available. For those interested in the finer points, in the photo above, that's 'zest check' and you will also see the 'woodland check' in other pictures below. I wasn't sure how I felt about such a bold pattern to begin with, but actually, it came to grow on me and I was perfectly happy with both colours (having initially favoured the earthy, more subtle tones of the 'woodland' option.
So, first up, here's the science(ish) bit. The 100% polyester Katmai Light forms part of Paramo's Trek & Travel range of shirts and is made from their Parameta A fabric. This is designed to wick moisture away over a large surface area so that it evaporates quickly – keeping you cool and dry in a range of conditions, especially at higher temperatures. I first saw this wizardry in action when I spilled some water on a sleeve; I was amazed not only at how quickly the liquid spread out but also at how little time it took to dry.
Such technical trickery might sound rather familiar, and so it should – the company produces a whole range of garments designed to keep the wearer comfortable. For example, you can take a look at how their excellent Velez Adventure Smock performed in this Test/Review. At the time of writing, I have also just given the Men's Bora Fleece Hoody its first outing – that write-up will follow in time.
Weighing in at 200g (size medium), to the touch the Katmai Light feels more like the inner of a top-end sleeping bag than the cotton affair you might typically expect of a shirt. As a result, it is super-comfy – aided by the fact that it is cut in a generous 'comfort fit' rather than 'fitted'.
Now, I have a modest, slim frame; in other words, I'm not what you'd call 'stocky'. For this reason, upon first slipping the shirt on, I did wonder in hindsight whether a size Small would actually have been a better fit. In reality, though, the Medium fitted perfectly around my shoulders and, thankfully, in no way did I resemble a walking coat hanger.
The sleeves are, shall we say, generous in length. But that is not to say they are too long. Rather, I think perhaps I must be shrinking as I get older, because I have been finding this with a few base layers/fleeces/jackets on review recently. The overall fit of a garment can be perfect (for example, with Paramo I know that size Medium is invariably the right choice for me), but it seems that there is always plenty of fabric to spare in the arms.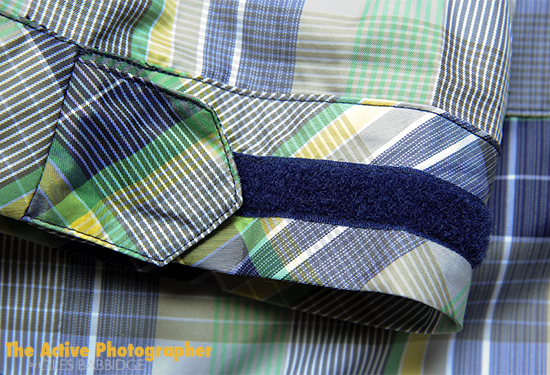 That said, I had no 'baggy clothes' problems when rolling the sleeves up or fastening them out of the way with the highly effective Velcro closure on the cuffs. Speaking of the latter, this fastening (in conjunction with the bug-resistant dense weave of the fabric) will no doubt be appreciated by those of you who encounter biting bugs whilst travelling.
An initial concern I had as a photographer was that my camera straps would slip on this smooth, light fabric. I needn't have worried – they've held perfectly, even as I've darted around the place, doing my very best not to miss key pictures and getting into all kinds of positions whilst setting up equipment. In addition, I haven't suffered any sore points around those areas either, thanks to the flat shoulder seams.
Aside from the technical performance described above, you also get a number of nice, simple, practical features on the Katmai Light…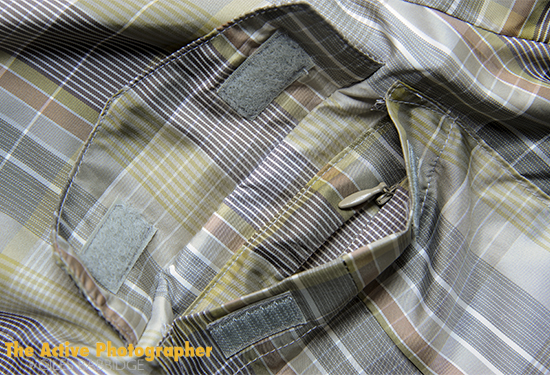 Most obvious are the two large bellows pockets on the chest. One is just that; however, the other hides a secret – a hidden, zippered inner pocket, perfect for storing your passport (or memory cards, business cards, confidential documents etc).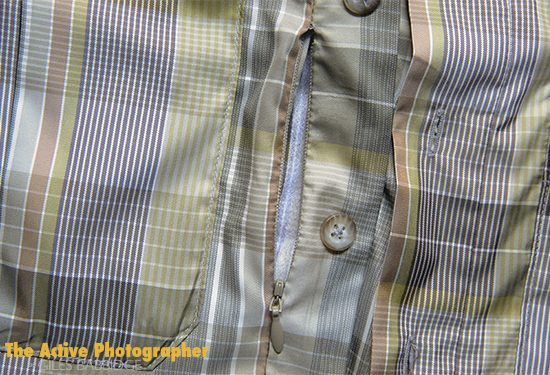 The hidden storage options don't stop there. Along the line of front buttons is a large zippered pocket (shown partially open, above). To give you some idea, you can – technically – fit an Ordnance Survey Explorer map in there, although it is a bit of a squeeze. In my hands, though, smaller documents like photo shoot briefs, model release forms and the like tuck away perfectly.
In the heat of the midday sun, the generous, traditional-style collar is welcome, offering extra protection around the neck. That said, I've worn this shirt not only on location (or on purely fine days), but also during meetings, workshops and long drives around the country. In this way, I've found it to be very versatile and, returning to the matter of appearance for a second, not at all out of place in all manner of situations.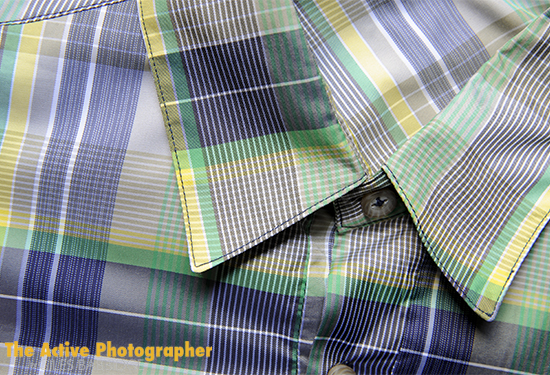 When it comes to cleaning the shirt, I can tell you that I've been pleasantly surprised at just how crease-free it is, straight out of the tumble dryer (note: the care label suggests you dry the shirt naturally if possible). I'm not for a second suggesting that we should all stop ironing our clothes, but I don't mind admitting that there have been a number of occasions when I've been in a rush to get out of the door,  when I was able to throw it straight on and nobody was any the wiser! Shhh…
In conclusion, then…
With great comfort thanks to effective control over bugs, temperature and specifically the sun (blocking virtually all harmful rays, SPF 50+ equivalent), the Katmai Light is well worth considering if you're planning on being out in the open for extended periods of time. Whether you're active in your day-to-day work or simply enjoy hill walking and travelling to hot climates, this shirt ticks many of the boxes we all share when heading out and about on our adventures.
More information can be found via this page on the Paramo website.
Category: Location photography, Product tests and reviews