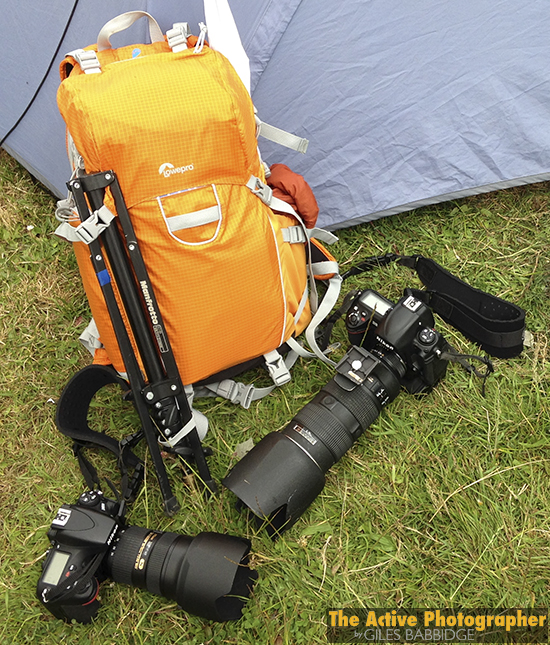 If you've been following my updates recently, you'll know that a proportion of my time has been taken up by the Goodwood Festival of Speed (FoS). For an overview, you can take a listen to this edition of the podcast.
People seem to be fascinated by what I do at these sorts of public events – and specifically, what my set-up / workflow is. In this Q&A 500, then, I'm going to give you a quick break-down of the approach I take when considering the kit needed to successfully carry out my briefs.
So…
I've been shooting / writing at FoS and similar events for around 13 years now, and the biggest lesson I've learned (amongst many) is that being selective when choosing your camera gear is one of the keys to enjoying a productive time on-site. The days are often long and hot, so it makes sense not to cart around unnecessary equipment. Less is more, as they say!
On a typical day, this is what you will find me carrying:
Photographic backpack, containing…
Two camera bodies
Two lenses
One flashgun
Audio recorder
Spare memory cards (SD and Compact Flash)
Spare batteries (for cameras and flash)
Passes & business cards
Notepad & pen
Phone, money, keys
Water & snacks (protein bars, mixed nuts etc – more info about this here).
Depending on the weather conditions and the specific photography requirements, I also might pack the following:
Monopod
Lighting stand
Tripod (if event involves night photography)
2x converter (doubles the focal length of the attached lens)
Laptop, memory card reader, cables (if writing/editing is required somewhere along the way
Lightweight waterproof jacket
Suncream & hat
The specific makes/models are irrelevant here. The point is that, when you look at it, the core kit I take is actually very minimal.
By taking two cameras – one with a wide angle/mid range zoom lens attached, the other with a telephoto – I am able to quickly capture things as they happen, often with just a few seconds' notice. Of course, to make the most of this arrangement, I also have to know how my cameras are set up so that they need very little adjustment in the heat of the moment.
Both cameras have a simple strap attached and I hang one over each shoulder; this way, they are ready to swing into action, free from tangling.
There is another reason for taking two cameras – unexpected equipment failure. It can, and does, happen – usually just at the wrong time! With a backup close by, even if I have to make a super-quick lens change-over, I am able to reduce the chances of missing those all-important pictures.
If my 'base' for an event isn't too far away (a press centre, organisers' office or car park, for example), I sometimes leave an extra backup kit there, as well – just in case. You can never be too careful and experience has shown that 'what if' is a great question to ask when packing your bags.
—
If you have a question about photography, writing, the outdoors, being freelance etc – just ask and I'll give you a no-waffle 500-word answer. If you're on Twitter, add the #QA500 hashtag and send your question to me @gilesbabbidge.
Category: Event photography, Location photography, Q&A 500, Technique