A brief note before I get into the specifics of this write-up…
If you're reading this, I'll take it as given that you have a keen interest in photography and/or the outdoors. I know that many of my regular followers have families and, as such, are always keen to share their passion with them. As we all know, this is not always easy, for whatever reason.
In the past year, following some great feedback, I've extended my Test/Review activities on The Active Photographer to include family-friendly products. Whilst these write-ups remain true to the core nature of the site, I now hope to give you some additional helpful ideas to keep in mind when trying to stay in your loved ones' good books!
OK, so…
I've had a long association with Vango, stretching right back to my school days, when I had a Saturday job working in an outdoor/ski shop. I know from personal experience of using their kit that it's built to last and is always very well designed – which is especially good to know when thinking about the comfort of your little ones when venturing outdoors with them.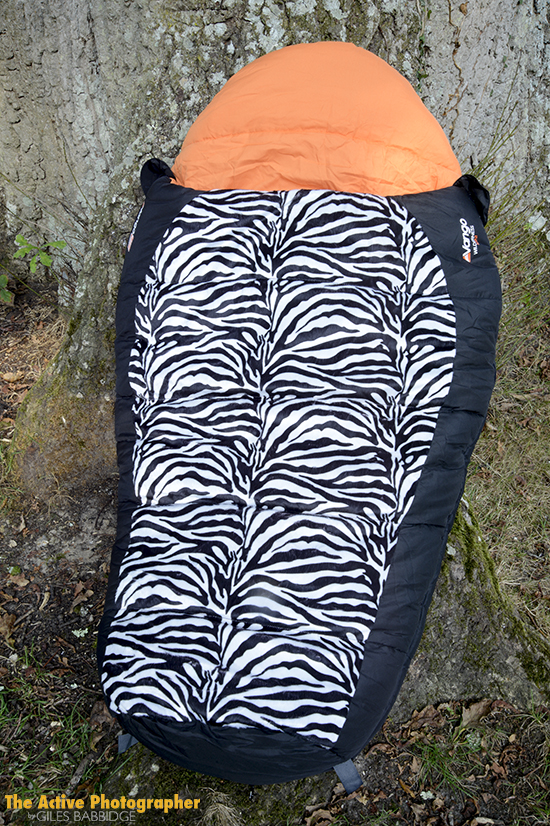 If there's one thing that's bound to get your kids' attention, it's bright colours and bold patterns – and the striking zebra print/orange combination of the Wilderness Mini has proven to be a real winner here. Add to this a super-soft brushed polyester lining and faux-fur top material and it's full marks on the cosy scale.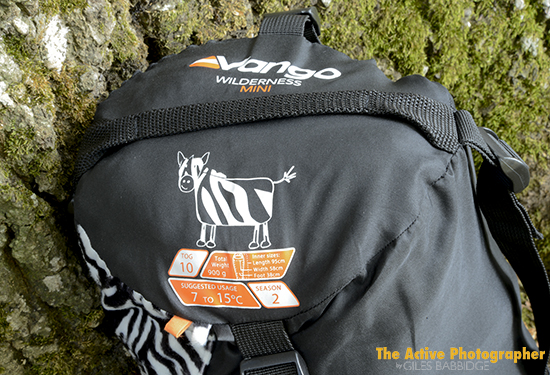 This is a 2 season mummy-shaped sleeping bag aimed at younger children. Rated TOG 10, with a suggested usage of 7 to 15°C, it weighs in at 900g and has inner dimensions of 95cm (length) x 58cm (width) x 38cm (foot box). That means it will happily accommodate anyone up to 80cm in height.
At the top end, the generously-sized hood area is shaped and elasticated, but does not have a drawcord. The shoulder area features insulated baffles and offers just the right amount of room for the occupant to snuggle down.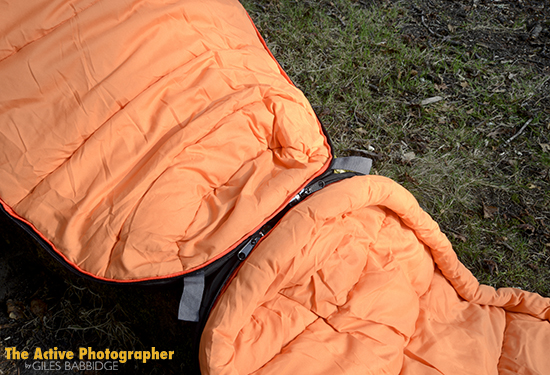 Aside from the visual aspect, there are a couple of great practical features on this bag. Firstly, the twin 2-way X-lock zips are perfect for quick and easy access. Think in terms of the need for a sudden change of clothing or easy temperature moderation in the middle of the night, and you get the idea. Each zip sits neatly behind a small panel when fully closed, so the chances of little fingers getting caught are greatly reduced.
In some ways, the Wilderness Mini is two products in one. If you don't want to use it as a full-on sleeping bag, simply unzip from the head end down and detach the two sections in order to use as small blankets!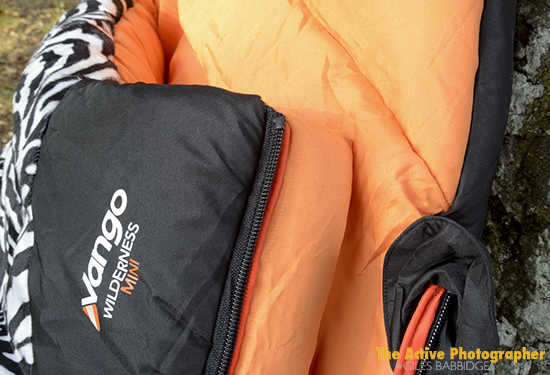 The second notable feature is a generous baffle which runs the full length of the zips. This does a great job at keeping draughts out and all-important warmth in.
As with any choice of kit, some common sense does need to be exercised when picking a sleeping bag for your little one. In our family, we've had great success using this model in spring, summer and autumn conditions; very little adjustment was required other than substituting sleepwear to suit the season.
On a practical level, the microfibre polyester shell does what it should and dries quickly when damp. This process is aided by two loops situated at the foot end – perfect for hanging in the porch of your tent or from a tree.
A compression sack comes supplied with the bag; it features a simple draw cord closure at the top end and a decent grab handle at the other. In practice, it is easy to roll the bag up before working it in, rather than using the stuff-it-in approach you might be used to with adult models.
So, to conclude…
If, like me, you don't see the autumn as being the end of the camping season, and have a family of willing participants, give some serious thought to this sleeping bag. It's well thought-out, well constructed and – with exciting colours and textures to stimulate the senses – bound to be a hit with your little ones.
Worth a note: The zebra print design is also available for bigger campers, too, in the shape of the Wilderness Junior sleeping bag. This accommodates to a maximum user height of 150cm.
Category: Camping, Family activity, Microadventure, Product tests and reviews