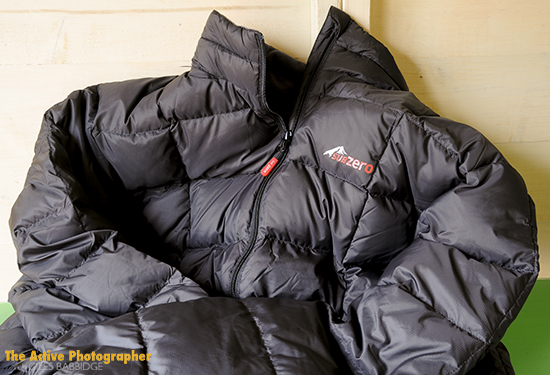 I've had this jacket on test for some time now, and I can honestly say it has performed exceptionally. From chilly evenings spent around a low-lying campsite in June to seeking shelter from wind, rain and snow in the height of winter on photography trips in the mountains – it has become an invaluable item of clothing on my basic kit list.
Many of you will be familiar with the sort of down jackets that make even the slimmest person look like the Michelin Man. Kind of a traditional look. So, the first thing you should know about Sub Zero's offering is that it doesn't carry anywhere near the same level of bulk. I can sense raised eyebrows already, and rightly so – to me, this is a great selling point!
It's worth mentioning at this point that the fit is 'unisex,' so whilst it might be snug, it is not 'fitted' per se. For a Slim Jim like me, I've not suffered from excess material around my torso, so that's something worth bearing in mind if you are of a small- to mid-sized frame.
The first time I took the jacket out for a spin, I had one of those 'Oh, wow' moments. I was genuinely surprised by the weight-to-warmth ratio it delivered. Looking at the specifics, you can attribute this to the 800+ fill power goose down (which, by the way, is ethically sourced).
This is aided by the polyamide ripstop shell which, as billed, has proven itself to be nicely breathable, windproof and water repellent. Note that last point – water repellent, not water proof; it does a great job in light rain showers and snow, but is not designed to perform like a waterproof outer jacket a la Gore-Tex.
I've lost count of the number of occasions where I've had to sleep in this jacket for extra warmth. On each outing, it has been incredibly snug, with no build-up of moisture during the night.
The garment I've been using weighs just 350g (size medium) and comes complete with a 26cm x 18cm approx. drawstring stuff bag. Again, this is another huge bonus point as fas as I'm concerned, as the thing can easily be shoved into your rucksack or large trouser pocket until needed, taking very little space. Even after a day of compression, the jacket soon regains its loft and visible signs of being scrunched up are few and far between.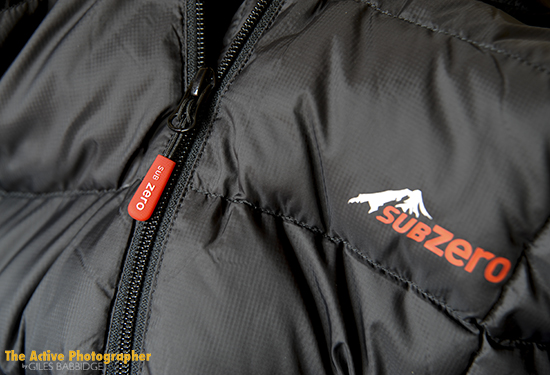 The zips, featuring good pull tabs, are nice and simple; they run smoothly and have never snagged. You get a single full-length one straight down the front, complete with wind baffle, and one each on the two generously-sized hand warmer pockets. Incidentally, these pockets have proven just right for storing smaller items of kit whilst out on photo shoots.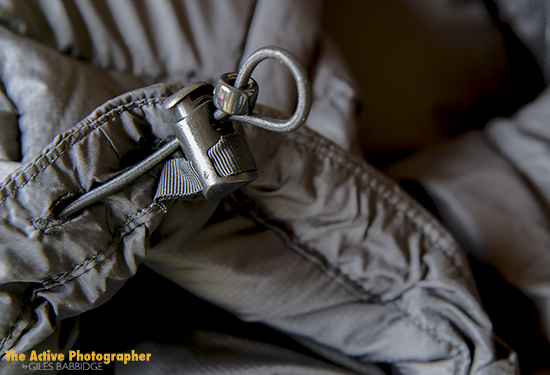 I'm glad to say that the two drawstrings on the hem hold nice and tight; I really dislike it when manufacturers don't factor in enough 'bite' on their toggles. In real-world terms, this means your midriff and lower back don't get exposed to the cold when you bend over or stretch up to grab kit etc. Likewise, the elasticated cuffs are effective at keeping the cold out.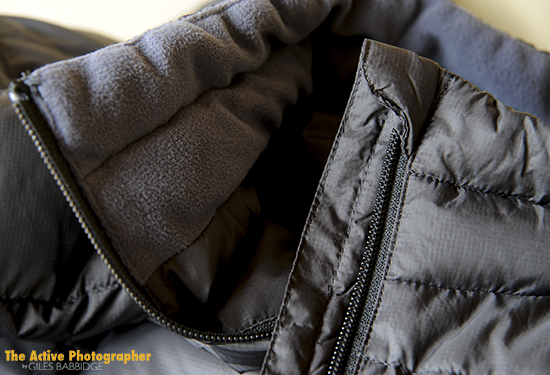 If your preference is for a warm jacket without a hood, you'll be fine here. The soft fleece-lined collar is a nice touch and the material has remained pile-free for the whole duration that I've used the garment.
I've always said that this jacket would be near-on perfect if it had a built-in hood… and would you believe it, there's one in the pipeline (which I'm looking forward to taking a look at and reporting back on). It's very smart-looking, from what I've already seen, so you can understand my excitement with the thought of my upcoming winter camping/photo trips on the horizon!
For those of you who put an emphasis on colour options, there is only one here – black. I gather the new version (complete with added features) is blue.
The biggest selling point of the Sub Zero Thermal Down Jacket is its no-frills simplicity. It has been designed for a set purpose and it delivers on its promise very well. Whether you're the sort who likes to wild camp in the mountains in winter or simply want to stay warm whilst taking your dog for a walk down by the sea, you'd be well advised to consider this jacket.
Category: Camping, Location photography, Microadventure, Product tests and reviews