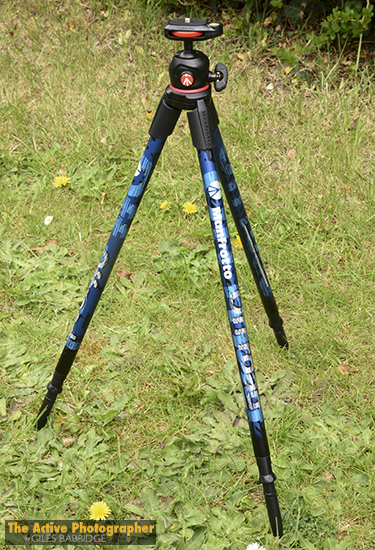 Looking at the Manfrotto Off Road Tripod folded up, you'd be forgiven for thinking it was actually a set of three walking poles – certainly a first glance. Actually, there's a very good reason for this.
Teaming up with Italian manufacturer Fizan, Manfrotto has created a tripod which doesn't immediately fit with the image you may be used to. Gone are the chunky legs and their quick release catches; a more technical head has been replaced with a super-simple offering, perfectly suited to its intended use.
Let's take a look at the overall specification first.
Tipping the scales at 0.65kg (1.43lbs), the low weight is clearly a selling point here. This comes thanks to the use of aluminium legs and toughened plastic fixtures – basically the same construction as the Manfrotto Off Road Walking Sticks (Test/Review coming soon).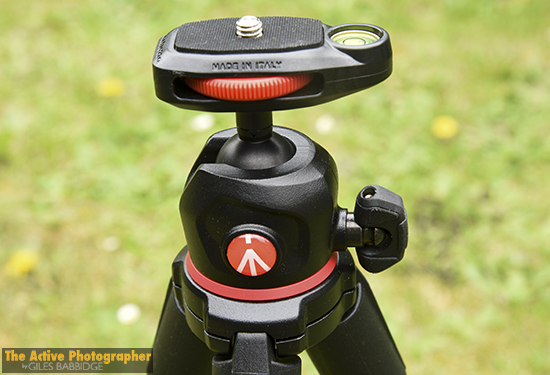 The ball-and-socket head is a part-plastic (top plate), part metal (ball joint and casing) arrangement. In practice, I've had no trouble with any of this assembly; the components have taken a few knocks and my cameras have held steady. I particularly like the chunky fold-down release lever (more of a 'tab' than a lever, actually), which only needs a quarter turn in order to make smooth adjustments to the head. Also, the mechanism for securing your camera is very easy to use with gloves on – making it perfect for outdoors photography in poorer weather conditions.
The top plate's spirit level is a nice little feature, but is obstructed completely from view when a camera is mounted. Of course, you could simply attach the camera at 90° to what you'd expect, but doing so is counter-intuitive as you're not making the most of the platform (i.e. not getting the full stability).
That brings me onto the type of camera you can reasonably expect this tripod to support.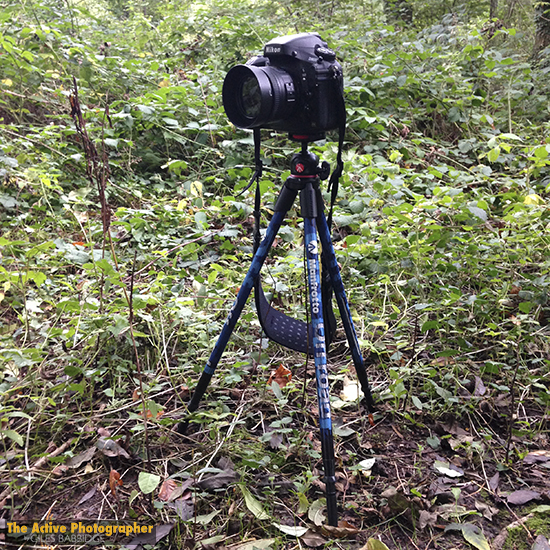 In practice, I've found success with everything from Go Pro-style action cameras and point-and-shoot models right up to my Nikon D800 (without battery grip added, and with a modest lens attached). According to the spec. sheet, the maximum recommended load is 2.5kg (5.51lbs) – but as a user, you need to make a judgement call as to what you feel happy putting on it (especially in certain weather conditions) vs. how badly you need the support.
Not surprisingly, as camera weight increases, there is noticeable strain on the legs. This is not a fault of the tripod – rather, as with all kit, you should be aware of limitations and match your equipment accordingly.
The twist-lock legs work well and hold their position reassuringly well. The sections are easily removable so that they can be quickly cleaned out.  As you might expect, the action of adjusting these is a little more tricky in damp conditions, due to the poles' smooth finish – and if your hands suffer in the cold, the design may not be best suited to you.
Folded down for transport, the Off Road Tripod measures 55.5cm (21.85in) in length. So, not as compact in that regard as some travel tripods, but certainly a lot lighter and typical in length compared to walking poles. Full extension is 122cm (40.03in) and at this height, you really do need to be aware of the weight perched on top.
All in all, this is a great little tripod for the outdoors photographer. Very much no-frills (never a bad thing), it combines key features with practicality, right down to the rubber feet protectors which stop the likelihood of bags and clothing getting snagged and damaged.
Category: Location photography, Product tests and reviews