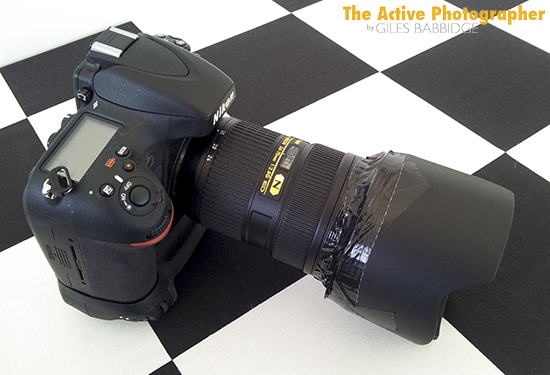 If the thought of periodically upgrading your photography kit fills you with dread, it can be very tempting to stick with what you've got until something goes 'bang!'
At that point, you're then faced with a question: Do I get it repaired or do I pay out for a brand new replacement? Often, this is a trickier one to answer than you might think, as there will invariably be a number of factors involved.
My take on this makes me something of the 'anti-professional' in many ways. You would probably expect me to jump straight in and recommend making that new purchase.
But I'm a realist and I appreciate that not everyone has the budget to do so. Personally, I don't alway have the inclination to reach for my wallet straight away, either. I'm not tight with the ol' purse strings, it's just that I don't always see the point.
Remember – cameras, lenses, flash guns, bags, tripods, whatever… all these things are tools of the job. They are designed for a purpose. Ask yourself: If I get this repaired will it still do what I want it to do? Forget that the exterior may not look perfect anymore, that's really not important.
If you're unable to get the job done with a repaired version of your kit, then it stands to reason that a new purchase is the way forward, however begrudgingly you might have to part with your cash. But… Do NOT use the situation to convince yourself that you need the latest and greatest version, unless you were already thinking about upgrading.
Ask yourself, also: Realistically, how long will this repaired item last me? Again, don't try to convince yourself into the decision to buy the shiny newest model just because you like the idea of owning a new toy!
Here's a real-life example from my own experiences…
I once had the flash tube in a Nikon Speedlight go pop whilst on location. It was fairly old then, but perfectly functioning up until that point. I weighed up the costs; at the time, a new unit was around £300-350 and a repair was a little over half that.
I decided to get it repaired.
That was about 7 years ago and, 7 years of regular, professional use later, the thing is still going strong.
If the same thing happened to that same flash gun again, would I get it repaired a second time? Yes. For two reasons.
Firstly, part of the repair process involves a service as standard, making sure all components are working correctly, not just the faulty one. Secondly, I appreciate that the older kit gets, the more borrowed time you are on. Chances are it'd be fine for a long while to come, but I'd be prepared for the worse-case scenario.
So…
To repair or not to repair? Weigh up the pros and cons of each option. Make a sensible, educated decision. Rest easy, knowing that you did the right thing.
—
If you have a question about photography, writing, the outdoors, being freelance etc – just ask and I'll give you a no-waffle 500-word answer. If you're on Twitter, add the #QA500 hashtag and send your question to me @gilesbabbidge.