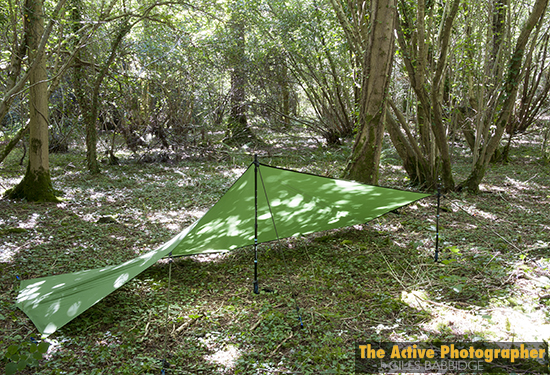 With every passing year that I'm involved in the glorious worlds of photography and the outdoors, I come to realise that there are some items of kit which I absolutely love. In each case, their appeal often boils down to the fact that they are a) practical and b) dependable.
Queue the humble tarp, or tarpaulin.
These versatile, quick-to-use shelters come in all manner of shapes, sizes, weights and materials. The one I most often use (all through the year and in all weathers) weights just 325g and is constructed out of ripstop nylon. It packs down really small, so fits conveniently in a backpack.
Below you'll see a number of pictures showing it in use, grabbed from the archives.
Of course, you don't have to take the more technical route; to have a play with the fundamentals of tarp configurations, save your money and simply go to your local hardware store or £1 shop. Something along the lines of 6ft x 6ft or 7ft x 5ft is a great place to start – these are often blue and used frequently for gardening, general DIY, caravanning and the like.
All you need to add to this is a set of basic pegs and some cordage (paracord, accessory cord, even string will do), then you're good to go. I sometimes use bungee instead, for convenience.
The more I've used tarps, the more I've worked out what arrangement works best for me. For example…
If I simply want shelter from a breeze, I'll use it as a windbreak: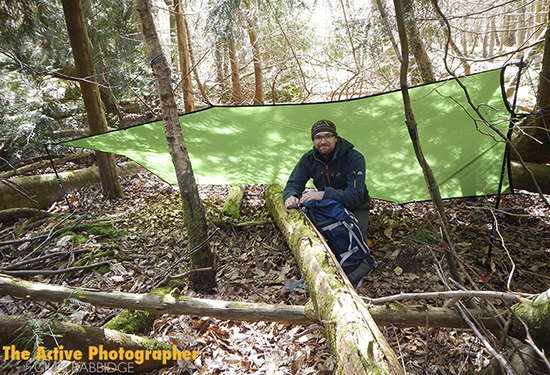 For a little more protection, I might peg down the corners to form a 'pyramid' shape: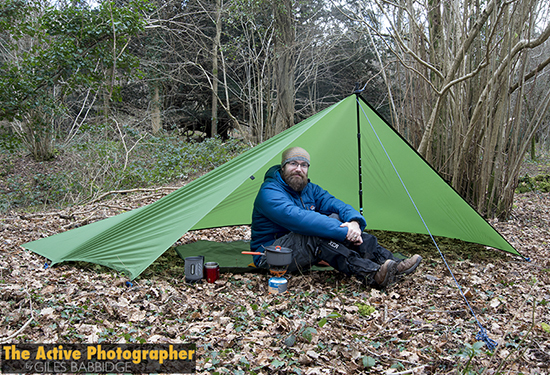 On fine days, you'll often find me spending all day in a woodland, using my tarp as my base whilst I write or film – in which case, I'll set up a simple 'A' shape allowing plenty of head room: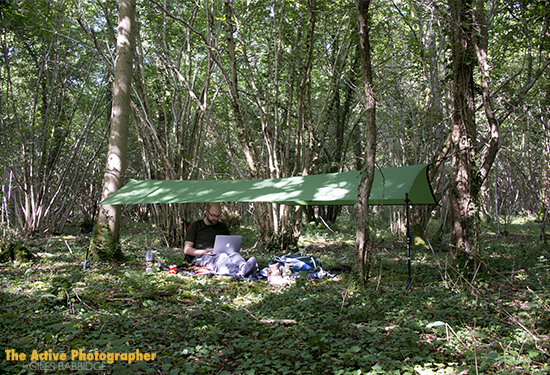 For overnight camping, a variation on the pyramid design works well:
Hopefully you can see why this versatility is so appealing!
If you have any questions, as ever please do let me know.
—
If you're not familiar with my 'Gotta Love…' series of articles detailing my favourite, tried-and-tested kit, my karabiner and drybag pieces would be a good starting point.
Category: Camping, Location photography, Microadventure, Technique