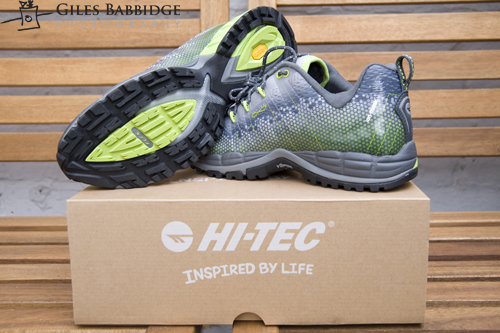 As the summer finally appears to have given way to autumn, now seems like a very good time to deliver my verdict on some of the footwear I've been trying out in recent months.
The Hi-Tec V-Lite Infinity HPI has been a regular companion throughout many activities since the beginning of March. There have been times when I perhaps might have wished for something a little heavier duty (take this as me misjudging conditions rather than the product's fault), and there have been times when I was glad of its versatile, lightweight design.
One thing I should probably mention before going any further is my own feet. They're pretty narrow, as it goes, and regardless of seasonal considerations (read: temperature), I typically take a UK 7.5-8 for activity shoes, depending on the manufacturer and fit. Both left and right are pretty closely matched and I have never worn a pair of shoes where one foot fits great and the other doesn't. Also, although I'm not classed as having flat feet, it is worth mentioning that my arches are quite modest, but I've never required additional support.
So, to begin, lets go right back to day 1. Or rather, the first month.
Fresh out of the box, these shoes made an impact by colour alone; I was sent the dark grey/infinity green/silver combo. Not what I would normally pick out, but they do actually blend really well with a wide range of clothes that are currently to be found in my wardrobe – equally at home with combat-style walking trousers on the trail as they are with jeans when doing the weekly food shop.
The second thing I noticed was the weight. At just 597g, these are by far some of the lightest shoes my feet have ever nestled in. This may not sound like a particularly significant factor in my line of work, but it really did make a difference given the amount of walking covered over the course of many hours spent on location.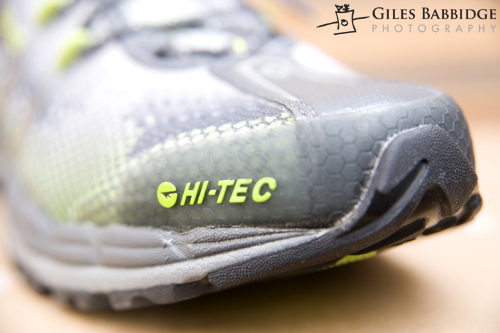 Day-to-day, I've been wearing these shoes with a standard cotton sock and my feet have remained dry on even the hottest day the summer could muster up. There are a number of factors for this, as you might imagine but, most noticeably, one can point the finger of congratulations towards something called Ion-Mask hydrophobic technology. In simple terms, this means the shoe gains less weight when used in wet conditions. Add a breathable mesh upper into the mix and it's a winning combination. All clever stuff.
I remember the first time I had to run in these shoes. It was a pretty warm day and I was in the middle of my duties, buzzing around town. The sensation of the cool morning air flowing in through the mesh and over my foot was a fantastic surprise. Okay, so it shouldn't have been a surprise, but it did bring a smile to my face nonetheless!
I had one little gripe within the first month, which gradually sorted itself out, but I do have to make mention of it in the interests of fairness… For some reason, at the point between the heel and arch on my left foot, the shoe presented a frustrating niggle within a matter of just a few days.
The best way I can describe it is to say that it felt like a piece of excess material folded over, creating a very small ridge. With this diagnosis decided, I quickly removed the shoe, pulled back the footbed and examined the finer points of construction. Hmm… nothing. No stitching out of place, no excess material, no residual glue like you sometimes find on footwear.
To this day, I still haven't figured out exactly what the issue was. I asked the lovely peeps at Hi-Tec when I dropped by their stand at the recent Outdoor Trade Show and even they couldn't offer up a definitive explanation. It's a mystery, for sure, but my conclusion is that it probably was a piece of rogue stitching which eventually flattened out after one month's regular wear. It happens, get over it, move on.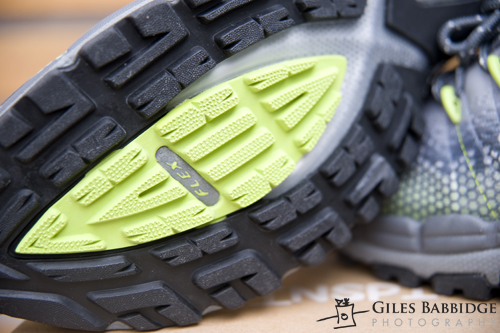 Whilst we're on the subject of the sole/footbed region… I've been really impressed with the considerable amount of give in the Vibram sole; it's super-springy (technical term) and has made a noticeable difference, for example, when squatting down to get kit out of a case or stretching up on tip-toes to adjust lighting stands.
Now, in my experience, Vibram is usually great in all but the most horrendous environments but in this product, I wasn't presented with the most traction I've ever known in damp conditions (think in terms of wet pavements after a downpour). For me personally, it's not a big deal, really, but if you have cause to question whether you would stay in an upright position before heading out, it's worth a thought. Such as it is, I never experienced any problems on trails or what you'd class as off-road locations.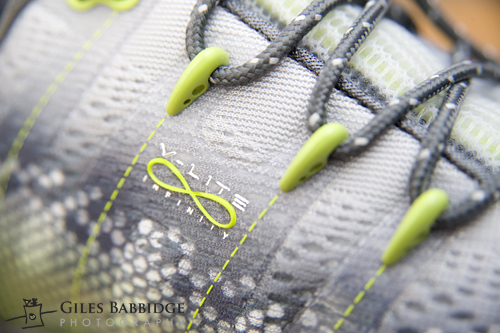 Although only a small detail, it's also worth mentioning that I've not experienced any problems with the laces – a good (sensible) length, held firmly in place by their fastenings, I have no complaints here. And whilst we're talking of integral support, the heat seal overlays have worked great in conjunction with the sole's flexibility, offering a very comforting level of support.
So, in conclusion…
Notwithstanding my initial concerns about that wayward left foot, this is a fine offering from Hi-Tec. Lighter than other comparable footwear I've ever worn (including outdoor sandals), my feet were kept comfortable throughout the summer thanks to what is a very functional and – pleasingly – uncomplicated design. Well done, guys – you must have known I can't bare over-engineered products!
Combined with the aforementioned light weight, some might say the feel of these shoes is more like that offered by a barefoot design. The Comfort Tec contoured footbed offers a very nice, close fit and the moulded toe cap is also thankfully soft and supple (how many times have we seen correctly-fitted shoes offering great performance, other than the overwhelming feeling that we'll stub our big toe every time we walk down a slope?).
The freedom that the foot-hugging mesh construction offers instills confidence; it would not be an exaggeration to say that, at times, it has felt as if I wasn't actually wearing any shoes at all .
Not once have I suffered blisters, sores, bruises or other ailments when wearing the V-Lite Infinity HPI. And at the end of the day, this is surely the sort of performance you want from any shoe.
Category: Product tests and reviews