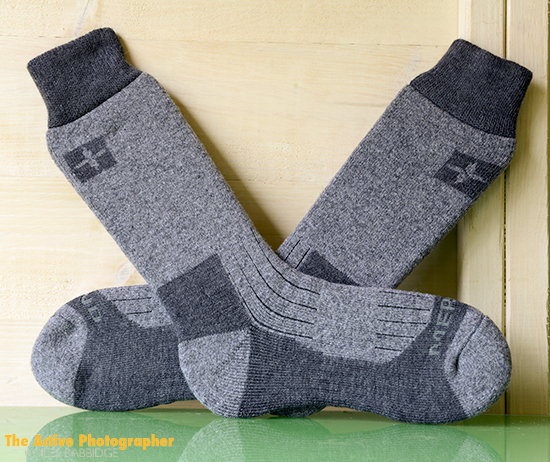 When it comes to choice of footwear, including socks, it never pays to cut corners. Whether you're a casual weekend walker or someone who is on their feet from first thing in the morning until last thing at night, poor selection of kit will only end in tears (often, quite literally if your blisters are serious enough!).
I've always been something of a creature of habit. When I find a brand whose products I like, I tend to stick with them unless something particularly notable comes along. For example, back in my school days when I had a Saturday job in an outdoors shop, I was introduced to a certain brand of socks and for years they were the only ones I would use, because I knew they were so comfortable and well made.
So when Mountain Warehouse asked me to take a look at the Merino Explorer, the challenge was set. How would they stack up in a wide variety of weathers and walking conditions?
At 85 grams for the pair (size 7-11), these satisfy my initial requirement – I have a preference for a thick sock all year round. Not everyone's cup of tea, granted, but I like the confidence that the additional support brings.
Straight out of the packaging, I could feel the quality and, when slipping them on for the first time, I actually grinned to myself at how snug they felt. In the same way that glove liners envelope your hands, it's as if your feet are being cuddled by these socks!
Ok, so that might be stretching the poetic license a bit, but you get the idea – they feel lovely on the feet.
Over the course of long, hot days on the trail, not once have I picked up a blister or suffered sore feet from chafing. Even in the hight of summer, when sweaty feet can be a real problem for many people, the ultra-fine breathable merino really does wick away moisture as laid out in its claims. On cold and wet days, my feet have remained toasty warm, including nights spent sheltering in a tent.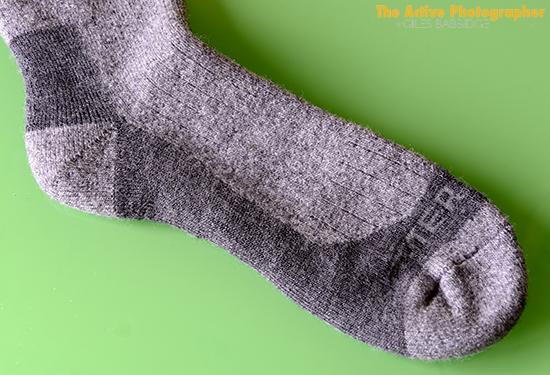 From a technical point of view, I've gladly appreciated the flat seams and cushioned padding in these socks. Like I said before, the confidence of feeling your feet are nice and secure really mustn't be underestimated. The pictures above and below should give you a good idea of these details.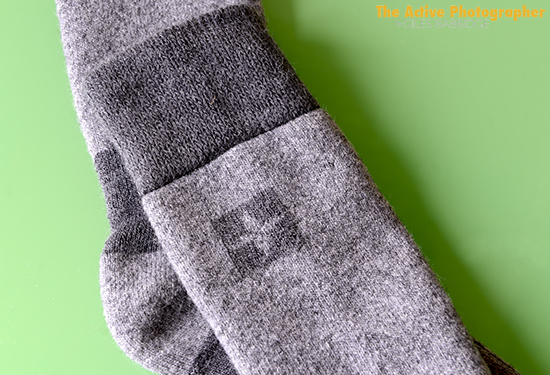 At the top end of these calf-length socks, the elastic is snug but not too tight. Another preference of mine is to push the above-heel material down to ankle level once my boots are on; here, I've had no issues with comfort.
But what about washing? There's been no need to follow strict cleaning instructions; just a regular wash with regular detergent has worked perfectly well. Having been put through many cycles, the socks have retained their shape perfectly, along with their softness. Okay, so there are now small signs of pilling, but that's only to be expected – and besides, I've yet to find a pair of outdoor socks which haven't suffered in the same way through regular use.
Here's my conclusion, then:
The Mountain Warehouse Merino Explorer socks have continued to be dependable on many occasions over the period I've used them. Are they the best walking socks I've ever worn? Well, they're certainly as good as any I've used before, and better than some I could mention.
My recommendation would be to get yourself along to your local MW shop to take a look for yourself; these socks are not expensive and would be a great addition to any walker's wardrobe.
From a purely aesthetic point of view, I really like the charcoal colour way. Not a factor that should take precedence over comfort, of course, but being neutral, it goes really well with all of the clothes I typically wear when heading out and about. There's also light khaki version available, too.
For your reference, here's a link to the Merino Explorer Mens Socks on the Mountain Warehouse website.
Category: Product tests and reviews