Well, winter is properly with us now and as you know, it's one of my favourite times of the year.
Much aside from the outdoor opportunities it presents, there is the added bonus that I get to test some great and interesting items of kit as the temperature drops and 'bad weather' sets in.
Towards the end of last year, I was asked by the lovely folks at Cotswold Outdoor if I'd like to take a look at a couple of items. One of these was the Rab Latok jacket, the other was the Petzl Nao head torch.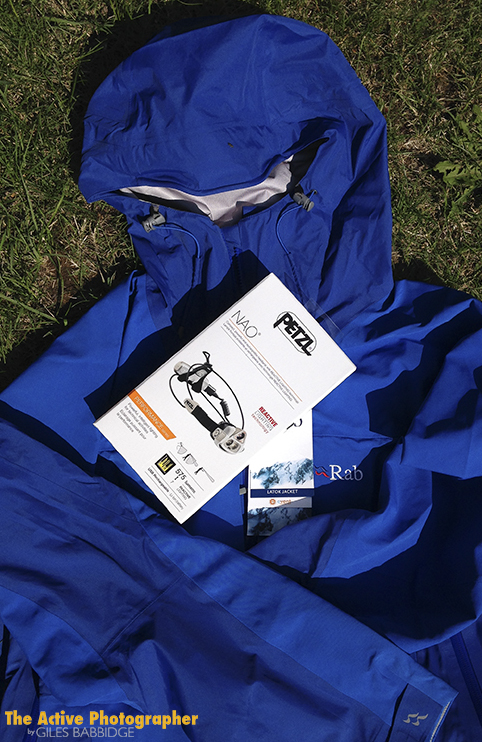 Here, then, are my initial thoughts about Rab's offering. The full write-up will follow in due course, once the season has thrown more inclement weather my way, giving me the opportunity to properly put it through its paces.
So…
By far and away the most striking thing I immediately noticed (apart from the classic Rab blue colour, of course) is the quality of construction.
'Fresh off the production line' would be one way to describe it, with the material, zips and fastenings all giving the feeling of confidence that you would hope for when kitting up before heading outdoors.
Frustratingly, it was a good few weeks before we had any proper heavy downpours in my part of the world, but that didn't stop me making a start on proceedings. A good opportunity to test the breathability of the eVent fabric presented itself on an almost daily basis whilst the temperature remained relatively mild.
Up to this point, my gut feeling is that in terms of breathability, the eVent hasn't performed quite as well as other waterproof/breathable fabrics I've used. Although I haven't sweated profusely, I have felt noticeably warmer/clammier in comparable conditions.
Don't get me wrong – I've not been uncomfortable or wet by any means, and I'm not for a moment suggesting the fabric isn't doing what it claims; I've just been consciously aware of my overall comfort. This could be put down to any number of factors from the ambient temperature of my surroundings to the choice of garments I've worn beneath the jacket.
Handily though, the Latok does benefit from generous under-arm ventilation zips (below) which do a great job of cooling you down quickly when required.
As with so much kit, the secret with items of clothing is to find the way they can work best for you. It's a process which can take time, and I'm not sure I've found exactly the right balance for me yet – so it's quite possible that my opinion will shift, given a little experimentation in the cooler conditions of the coming month or so.
But what about water repellency? Well, it's full marks so far – just see the phone grab shot taken in pouring rain, below!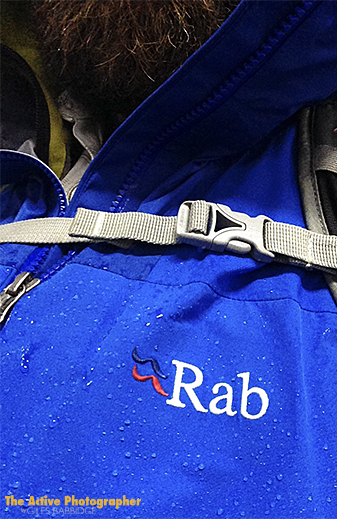 With rain beading up and rolling off as you would hope, I've been 100% confident when heading out and about in the wet stuff. This extends to the use of the deep external pockets, too, whose YKK Aquaguard zips have been great. I must admit I wasn't too sure about them to begin with; they seemed a little tight when opening and closing – but I put this down to the fact they were brand new. They have since loosened up nicely, along with the garment as a whole.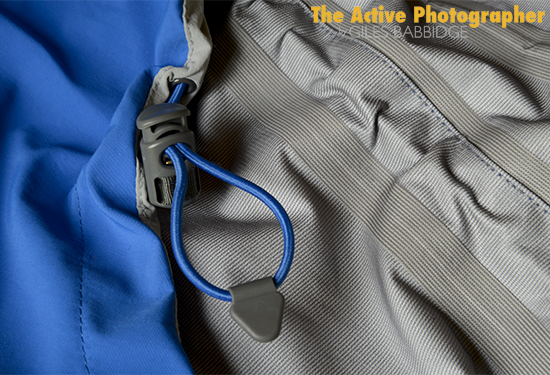 Looking at various fastenings other than the zips, I've been really impressed with the velcro cuffs and elasticated draw cords around the hem, hood and waist. So many times, garments fall short because the wearer's movement easily loosens up the tension. Not so with the Latok – and to the best of my memory, I've not had to re-adjust the tightness at any point.
In my day-to-day activities, my preference for clothing is to have a fairly close fit to avoid snagging material on equipment and surrounding objects. At the same time, I need a good degree of movement around the chest and shoulders (for raising the camera to my eye, fixing lights on stands, bending down to grab kit etc).
When it comes to overall sizing, I'd say my usual choice of 'medium' is spot on here. The arms are a generous length and by using the hem- and waist-level draw cords, I've been able to get a really nice fit – with the overall length running to just below hip level. Driving wind and rain has been kept well and truly at bay.
As I said right at the start, this is just an abridged write-up of my thoughts so far. With all sorts of exciting activities lined up in the coming weeks (including hill walking and wild camping, hopefully in the snow!), there's plenty of scope for me to form my complete review. At that point, I'll also be sharing full-length pictures, to give you a good idea of how the Latok actually looks on a person and in use.
For now, though, I can only say that I am very impressed with the performance of this jacket.
Category: Location photography, Microadventure, Product tests and reviews