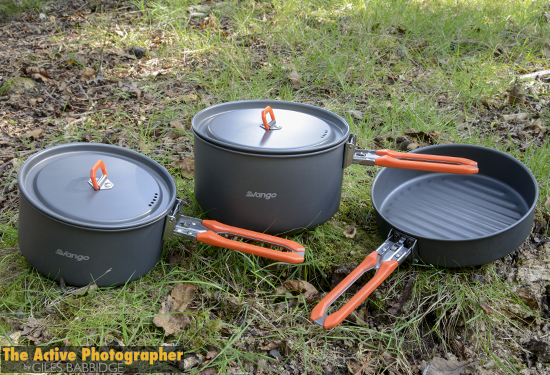 I love food, it's no secret. Whether I'm cooking a meal during a camping trip or making sure I'm stocked up ahead of a journey to my next photo shoot, the matter of keeping hunger at bay is never far from my mind.
For many years, I used a Trangia stove exclusively; compact, simple and effective, it served me very well for all manner of heated meals when out and about. The great thing about the Trangia system is that it stacks within itself when not in use – perfect for saving space in your backpack. I still favour a compact setup, but towards the end of last year I was keen to take a look at how to extend my cooking options.
Enter the Vango Gourmet Set M.
For the sake of Test/Review, and to ensure my requirements would be matched as closely as possible, I opted for this size set which I knew would allow more flexibility and variety when cooking. For reference, I've prepared meals on solo- and family/friend trips and it's worth noting that an 'L' version (containing a large pot) is also available.
So first off, what do you get for your money? Here's a break-down:
Frying pan 17.4 x 4.2cm
Medium pot with lid 16.8 x 9.4cm
Small pot with lid 14.6 x 7.3cm
Carry bag
Nice and simple, all of these items stack together, one inside the other, to give an overall packed size of approximately 10cm deep by 18cm across. The combined weight on my scales, including bag, is 687g.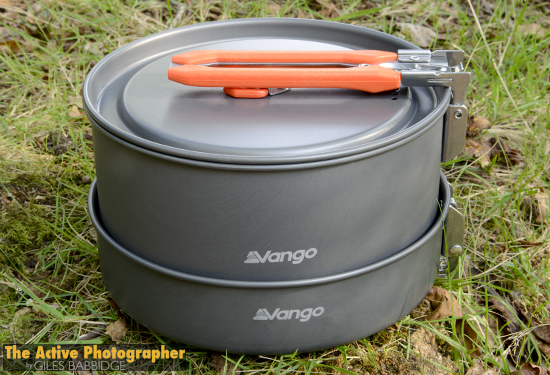 Aside from the solid feel of each individual item (as you'd expect from Vango), for me, there are certain stand-out features of the set which, in practise, work very well indeed.
The handle is a humble component, but how many times have we cursed our kit for not allowing a solid (and skin-melting-due-to-heat-transfer) grip?! Thanks to the chunky heat-resistant handles which instil confidence in the user, this isn't an issue with the Gourmet set. I also really like their locking mechanism – a sprung auto-lock when the handle is folded down and then a simple push of a button to release the catch when it's time to fold back up again. There's also very little movement when in the locked position; again, something I've experienced a lot in the past.
The little flip-up handles on the top are also simply effective, adding virtually no bulk but allowing ease of use.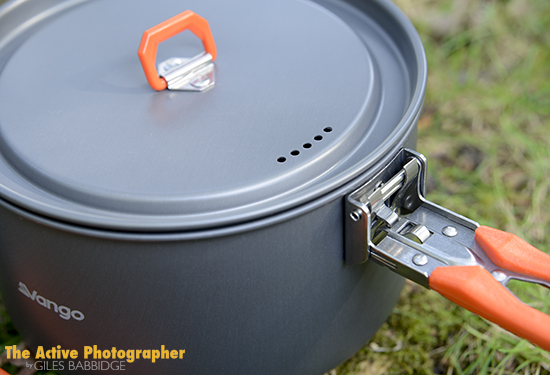 Sure, the non-stick hard anodised aluminium finish looks good and is nicely resilient but how does it fare with such stubborn foods as scrambled eggs and stuck-on pasta? Thankfully, very well. Past experience using other brands has again left me questioning just how long my pots and pans need soaking – but with these, no extra care or attention has been needed. A quick squirt of washing-up liquid and some warm water and you can almost see the food remnants pealing off in front of your very eyes.
I have used this set on various types of burner – from super-powerful, ultra-quick units to those with a more leisurely approach to their task. In each case, the pots and pan heated up/cooled down quickly and the heat transfer has been consistent in varying outdoor conditions and temperatures. The lids do what they should, and the top vents are a nice touch for releasing steam.
For those of you who love the smaller details of outdoor (and cooking?!) equipment, you'll appreciate a couple of design features that Vango have also added into the mix. First of all, the base of the pan is not absolutely flat – rather, you get a ribbed, skillet effect – great for allowing fats and juices to drain off food (for example, when preparing your bacon butty in the morning).
Also, each of the pots has embossed measurement markings on the inside. The larger of the two indicates 0.3L, 1.0L, 1.5L and the smaller shows 0.4L, 0.8L.
You'll notice there are no negative remarks in this write-up. That's simply because the Gourmet Set has performed excellently. No mishaps, no failure of components, it has done exactly what it promises. Functional and effective, it's well worth considering if you're looking to update or upgrade your own solo- or family camping and outdoor cookware.
Category: Camping, Microadventure, Product tests and reviews