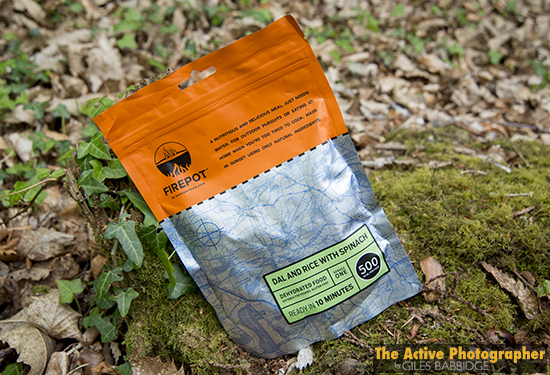 The worlds of photography and the outdoors are awash with 'latest and greatest' incarnations of tried-and-tested products. Claims such as "This camera sets a new benchmark for image quality" and "Our fabric offers the ultimate protection in all weathers" are nothing new.
So when you hear of a company making noise about how their product is oh so very different, you could be forgiven for showing a little weariness or skepticism.
The freeze-dried food market is no different and has always produced a mixed bag of results for campers and adventurers. So what does the FIREPOT range of dehydrated meals by Outdoorfood bring to the party?
Well, as it turns out, rather a lot!
I'll save you the full details – you can check out the company's website here. What follows, then, are my thoughts based on a first sampling, with a few specifics thrown in.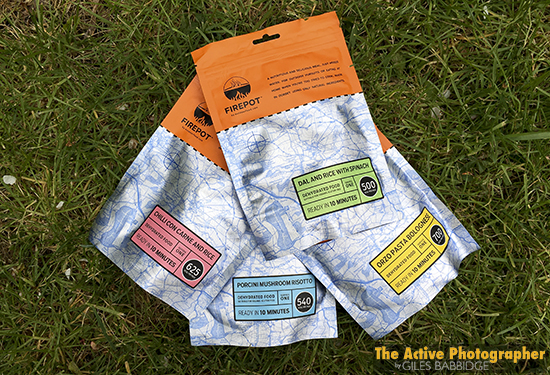 At the time of writing, the current range is made up of the following: Dal and Rice with Spinach / Chilli con Carne and Rice / Orzo Pasta Bolognese / Porcini Mushroom Risotto / Posh Pork and Beans.
The latter was released after I received my samples, hence it doesn't appear in the picture above.
So…
For anyone heading outdoors – either on a photography mission or otherwise – kit weight is always going to be a consideration, especially on long, hot days. At 135g and a size of around 9″ x 6", these one-serving packs barely make a noticeable dent on the space in your bag and their contents range between 540 and 700 calories. Larger portion sizes are also available on request.
The big selling point for FIREPOT is that Outdoorfood cooks these as whole one-pot meals, then dehydrates them – rather than handling each ingredient separately then mixing them together afterwards (as is often the case with the freeze-drying process). The result? Just as with home cooking, all those lovely flavours blend with one another, giving a richer, fuller flavour.
Or so I'd heard. A lot has already been said about how great FIREPOT meals are and in truth, I'd yet to see or hear anything negative about them. Was it all hype?
Absolutely not! The fact is that to look at, to taste, to enjoy and to feel nourished by… in my experience, too, they tick every box!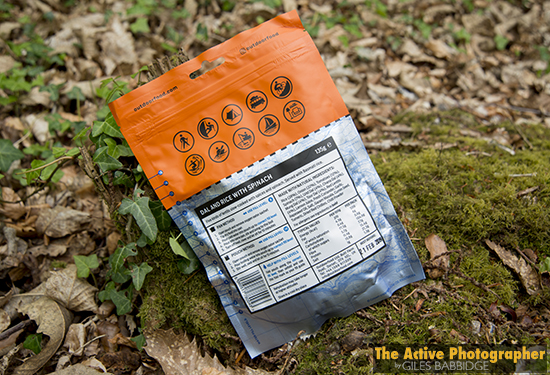 The cooking process is so simple. You have two methods – pan cooking or in the pouch. I chose the latter, following the instructions to pour in boiling water up to the suggested fill level (visible on the packet's reverse side), stir, seal and leave for 15 minutes.
Here's a 'before' picture…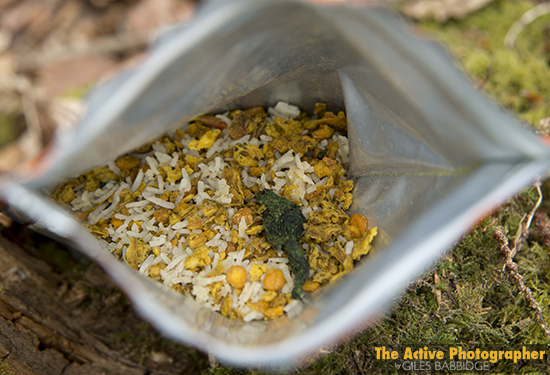 … and an 'after' picture: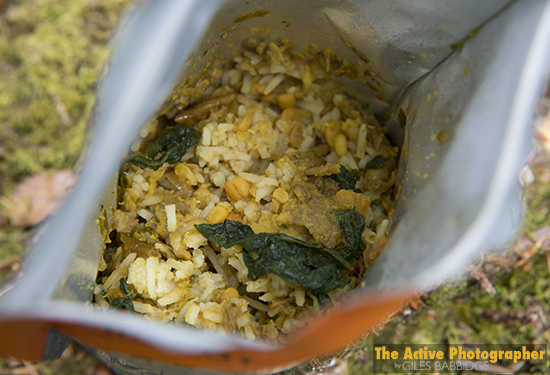 The rice and lentils were perfectly cooked to the correct consistency and the flavour gave me cause to exclaim 'Oh, wow!' out loud (don't worry, nobody heard. At least I don't think they did). This meal really did taste like something home-cooked!
Now, I should mention that I'm not a massive fan of spicy Indian food – although I do regularly cook with many of the ingredients used in this meal. So to give a rousing thumbs-up to this offering, I feel, is pretty high praise.
If you care about your food and where it comes from, there's also another selling point. From their base in rural Dorset, Outdoorfood sources their ingredients locally (for example, the British beef comes from the butcher in Bridport and the vegetables from the greengrocer in Chideock).
All meals are preservative-free, relying instead on the natural shelf-life of two years that the dehydrating process affords.
Whether you're planning a multi-day camping trip or simply heading out for a walk in the hills with your camera at the weekend, give a FIREPOT meal a go – you won't be disappointed.
Category: Camping, Microadventure, Product tests and reviews