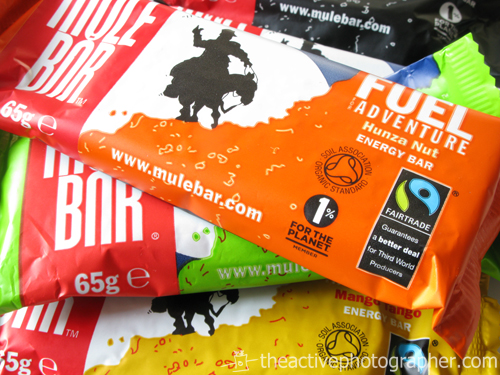 That's right – it's time for another foody review. Ok, so it's not camera equipment, but as you've probably worked out by now, good nutrition whilst on the go is always a priority for me as a photographer. I don't always have time to grab a decent meal in between shoots, so I'd much rather have something like an energy bar than a packet of crisps and a bar of chocolate.
I'll be honest – my first contact with MuleBar products was via the free sample dish at an outdoors show. In my defense, it wasn't my fault; I like food and the packaging was just too shiny to miss. Of course I felt obliged to take a taste… which in turn led me to walk away from the stand with a box of products under my arm (for scientific testing purposes, you understand).
Here, then, is my latest review for GearWeAre.com – taking a look at the these delicious products.
Category: Product tests and reviews