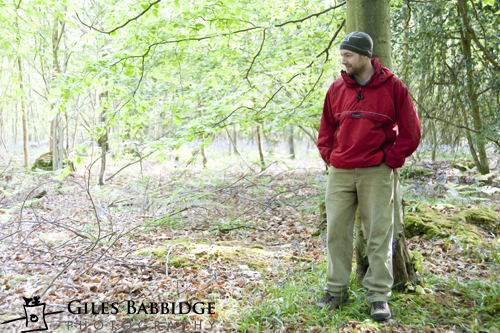 When it comes to selecting the clothes I wear for my work, decisions are invariably made on a practical basis. For example, trousers need to be hard-wearing (I frequently find myself rolling around at ground level or scaling heights), gloves need to be close-fitting (to enable proper use of camera controls) and waterproof outerwear needs to be up to the task whilst allowing me to remain comfortable for extended periods of time.
I've been using the Paramo Velez Adventure Smock for over a year now and at every turn, it has performed amazingly. It's seen me through all manner of location photo shoots – everything from battling driving rain and hail whilst taking on Scafell Pike (see picture below), to snowy conditions closer to home on the South Downs. I've even been underground in an abandoned railway tunnel. And when the elements have been more reasonable, often delivering sunny spells and considerably milder temperatures, I have not once been let down.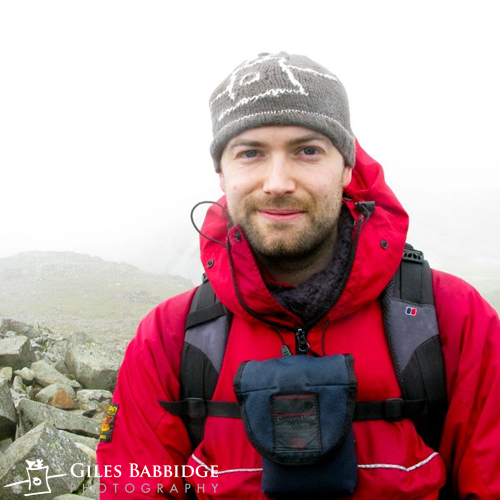 For starters, what really appeals to me about this smock is that it is very simple in design. Regular readers will know that the over-engineering of products is one of my pet peeves, so Paramo immediately get into my good books by matching a great technical spec with a nice two-tone colour arrangement. As you can see in the picture, it's the rather fetching red-on-red combination that I went for.
But appearances are all very well; what you want to know is how the smock performs in the real world, on a day-to-day basis.
At 720g, this is not what you might call a 'light-weight' waterproof. It doesn't pack down super-small in your bag and so requires a little thought when preparing for a trip out. This is by no means a criticism, though – the double-layer construction really does instil confidence that you will be protected whilst out in the field all day, so well worth the negligible extra space needed. If weight is an issue, you might like to look at the Velez Adventure Light Smock.
Both inner and outer are nice and soft, free from that horrible 'rustling crisp packet' effect you find on a great many traditional wet weather jackets; whilst this might be considered a 'nice' feature by many casual users, for me, it is a significant plus point – offering very quiet, unobtrusive movement whilst I work to capture great images. If you're a wildlife photographer, twitcher or similar, you'll know what I mean.
That double layer also means I've never had to go over the top when layering up. On mild days (think, spring showers), I have been perfectly comfortable with just a t-shirt underneath; in the height of winter, a thin fleece has been all that's required to add a little warmth and keep the wind out. In either case, the Velez Adventure Smock has spared me the need to pack additional upper-body clothing; as you know, I like the less-is-more approach!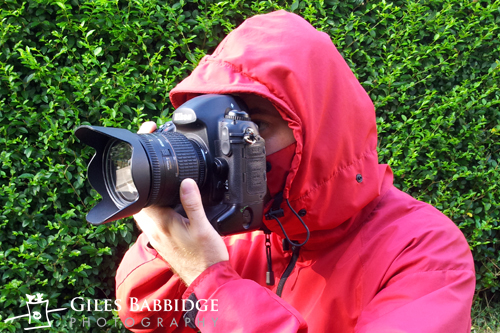 When the rain does pour down, the smock does a great job at keeping you snug and dry, thanks to its Analogy technology. Its built-in hood stays rigid thanks to a wire integrated into the peak and three bungees (left, right and base of neck at the rear) ensure you're not going to have excess material flapping around at the top of a hillside. By way of example, on my last trip to Scafell Pike, I couldn't help but smile to myself at the sound of the gale-force winds buffeting around my head but not getting in – again, so reassuring. There is the option to roll the hood away whilst not in use (five poppers keep it in place), although I have never done this; it has always just sat nicely out of the way behind my head.
On the business end of things, you get fully adjustable cuffs featuring strong elastic and velcro tabs (whose stitching has remained defiant throughout). I have found this arrangement perfect when reaching into camera bags, as a lack of excess material also means a lack of excess water dripping all over my kit!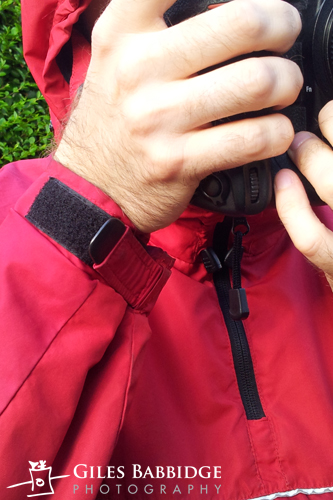 I've found the sizable chest pocket (complete with decent rain flap) perfect for storing the likes of lens caps, gloves and accessories. The only thing I would say is that, in a hurry to access said pocket, it is easy to mistake the zip for one of the two ventilation zips also on the front of the smock. Not a big gripe, really, but it has caught me out on more than a few occasions. Incidentally, these zips also lead to a full-length internal zipped hand warmer/pocket – handy for both purposes.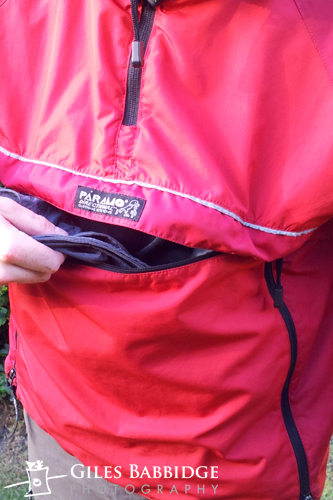 Round the back, the lovely people at Paramo have allowed a little extra material around the bum section – great when leaning against/sitting on wet surfaces when shooting pictures, but not so much as to become a problem when walking or bending over. There are also double internal draw cords, should you wish to gather material in further.
If I was to have to make criticisms (and, frankly, this would be hard to do as they are so minor), I would point you towards a couple of things.
Firstly, the thin reflective strip which runs front to back at chest level began to rub off within the first month of use. For me, this was no big deal and it is still 98% intact, but if visibility whilst out and about is your priority, this might be worth bearing in mind. Secondly, the grab tab on the chest pocket zip eventually became brittle enough to snap off (after approx. 9 months of use) – but again, not an issue and it can always be replaced.
And so, in conclusion…
I fully appreciate that a smock design is not to everyone's tastes, for any number of reasons. I've used various waterproof coats over the years – both traditional, full-length zip jackets and over-the-head smocks like this one. Given my activity and the range of motion I put these garments though, I have to say that a simple quarter-length zip design such as this is ideal for me. I'm not exactly what you'd call a man mountain and a size medium here offers a lovely close fit.
Is this the best waterproof garment I've ever worn? Quite possibly. Ask me whether I could hope for anything more, though, and the answer would be a resounding 'no' – the Velez Adventure Smock fits my requirements perfectly and ticks all the boxes I would expect from any item of equipment at this level.
For full technical spec and more information about Paramo's complete range, be sure to check out their websites here and here.
Category: Product tests and reviews