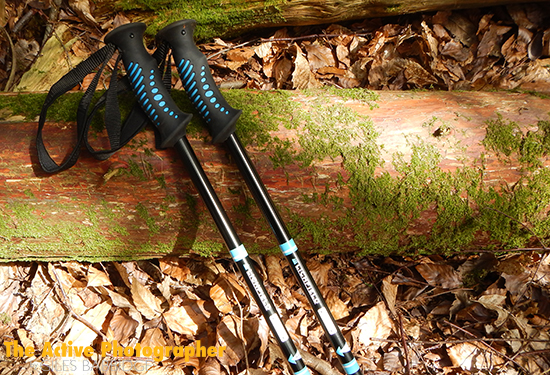 Walking poles are curious things. The more informed amongst us know that there are many health benefits associated with using them (increased cardio workout, pressure relief for joints, improved posture etc) – but they are the sort of things that tend to be a love/hate item.
Myself, I tend to use walking poles mostly a) during the winter months when the ground is prone to being more uneven and with an increased risk of slipping over or b) during longer walks, over rough terrain. The unique problem I have as a photographer, of course, is that I very often need both hands free to operate a camera quickly whilst on the trail; because of this, poles can become an inconvenience.
So when I was asked by Outdoor Megastore to take a look at these Lichfield Deluxe Walking Poles,  I knew it would be a matter of picking my moment in order to give them the once-over.
Let's get the tech bit out of the way first…
Constructed out of T-6061 alloy, with a carbide tip beneath the basket, these 3-section poles each weigh 320g. The grips are pretty standard, featuring as they do a moulded-rubber design; the sales gumph reminds us that these are '2-tone', although this doesn't impact particularly on performance. You also get wrist straps and an anti-shock mechanism – both common features these days.
Now for what that all means in the 'real world' environment… All said and done, these poles stack up pretty well compared to higher-priced alternatives you may have seen from other brands.
Those rubber grips sit nicely in the palm of the hand, with their contoured shape nestling in just the right place, and I've found the neoprene panel on the straps to be a nice addition – especially on colder days where bare webbing might otherwise cause a sore spot in adverse conditions. Adjustment is quick and easy; my only qualm is the 'stop block' strap length-adjustment mechanism, which has a tendency to pop out of position (but is easily corrected). No doubt you wouldn't have this same frustration with the aforementioned pricier offerings.
Personally, I've never been a great fan of the traditional walking pole grip; I've always liked a rounded pommel design on which to rest my hand. So the fact that I got on well with these should be seen as a very positive thing.
The anti-shock mechanism does a fine job; a simple little 1/8th turn and you're good to go. Does it work in practice? It does indeed (although some might say the jury is still out as to whether anti-shock really does make a significant difference to user comfort).
Now, at around 5'8 on a good day, I'm no giant. So I haven't had a need to extend these poles any great distance close to their maximum length. In fact, to get a 90-degree angle between my forearm and upper arm (from the initial closed-down length of 67cm), all that's required is 38cm in the middle section and 15cm in the lower.
If you do have longer limbs, keep in mind that these poles extend to a maximum extension of 140cm.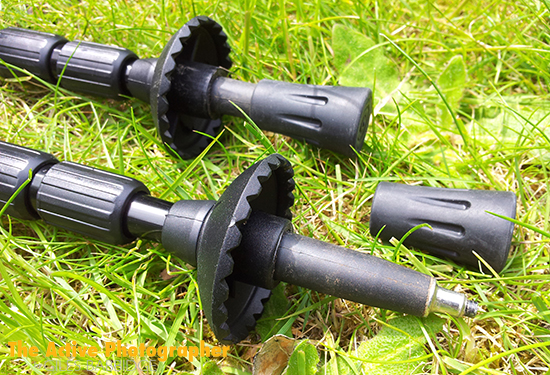 There are no accessories supplied with these poles, as such. You do get the aftomentioned mud baskets (one for each pole), which stay firmly in place at the bottom end, about 6cm above the tip. They are not the biggest I've seen, but do the job well enough.
You also get a clip with which to hold both poles together for easy storage. A simple idea, but I would have liked to have seen two supplied – as with one, the poles do have a tendency to sway around a bit (which surely defeats the object somewhat).
Talking of storage, Lichfield also supply a rubber foot for each pole, to stop the tip doing any damage to rucksacks, clothing etc. This foot also allows additional grip on more 'domestic' and flat surfaces such as pavements and concourses.
So to conclude…
The set-of-two Lichfield Deluxe Walking Poles are by no means a high-tech product. They're not even among the most developed poles in their category. But that shouldn't be taken as a negative thing – after all, not everybody needs or wants high-tech (and besides, just think what a walking pole basically is).
Yes, you could probably spend just a little more in order to get yourself a lighter-weight and snazzier set of sticks – but that's not going to be everyone's requirement. If you are looking for a good, basic set of poles that will give you additional support and stability on the hill, these are well worth a look.
Want to take a closer look? Here's a direct link to the product page on the Outdoor Megastore website.
Category: Product tests and reviews