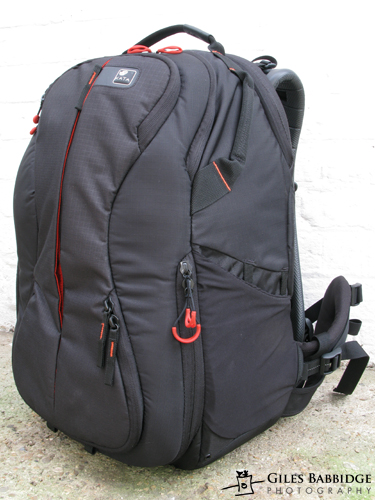 One of my pet gripes with the way manufacturers design/construct their kit is the way in which they often confuse the concept of 'adding features' with 'over-engineering' a product.
Let's face it, the camera bag is a simple affair really. A main compartment, a couple of accessory pockets, secure fastening of some sort and a way to comfortably carry the thing (handles/straps) is basically all you need.
It's from this stand-point that I have always looked at how I carry my camera gear. Experience has shown that the more features you add, the more complicated a bag will be to access, bringing with it the risk of missing those all-important pictures, at exactly the wrong moment, because you're fumbling around with clips, straps, zips, buckles and goodness-knows-what.
So with this in mind, how does the Bumblebee 220-PL fair?
—
One of the things I like most about KATA is that they pay great attention to the details, taking onboard real feedback from real photographers in order to better their products.
Using properly decent materials, from the hard-wearing outer right down to the rubberised zip tabs, you immediately get a sense that your valuable kit will be in safe hands. Even the stitching instills faith (how many times have you gone to grab a bag in a hurry, only to have the handle pull away from its mooring?).
The first thing I noticed about this bag was that it's not exactly what you'd call small. I have used other bags of similar capacity (from other manufacturers) which are nowhere near as bulky. This may or may not be a sticking point, depending on your own particular usage. For example, if you do a lot of travelling and have to store your bag in tight overhead lockers during journeys, it could be a deal-breaker.
Don't take this as a criticism, though. There is a very good reason why the 220-PL isn't as flat-looking as other offerings on the market – its Modular Aeriform Dividers are arched so that your lenses etc actually sit below the apex, offering added protection; when you also take into consideration KATA's flexible Spine Guard integrated into the front exterior zipped area, you can see this makes perfect sense. Personally, I found this latter feature unecessary (it takes up space, for negligable benefit) and I gather that KATA themselves are also having a rethink about how better to work the design.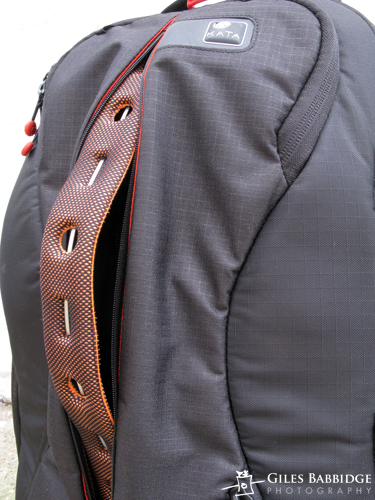 Looking at the outside… you'll find two compact front pockets for storage of pen/business cards/phone etc. To the left side are two zipped pockets (one of which is expandable, ideal for flat items) and to the right is an elasticated pocket which can take a small collapsed tripod such as the Manfrotto Compact Photo-Movie Kit. Although this is a nice idea, and I did try it, in reality I'd be worried about ripping its lightweight material, especially if travelling though terrain such as woodland, where it'd be likely to get snagged.*
*I should point out that this is not the intended use for the pocket. The bag actually comes with a dedicated detachable tripod sling, which can be attached to the front or side.
One pocket which I did like was the snug rear padded laptop slot. Designed to fit anything up to 17″, I had no problem fitting my smaller device in; really handy for those occasions where I might need to be shooting tethered on location.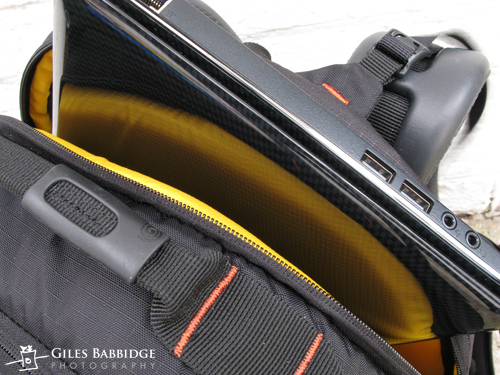 My overall conclusion about these exterior pockets is that, whilst they do serve a purpose, they are not the most practical I have seen. My biggest gripe is that they are too tight, too confining when sliding your hand in. I would rather have one big pocket on the front (which could take a lightweight waterproof coat, for example) and perhaps a second smaller one on the side for those items which need to be accessed quickly, such as keys/money/phone.
—
Let's take a look inside… Ok, so the first thing you will undoubtedly notice is the colour. It's bright yellow, make no mistake – but this is very handy when working in low-light conditions as cameras and lenses show up really well against it. In terms of how it shows the dirt? Hmm… I would say that over the long term, a more neutral option such as grey or black would be more suitable for those venturing into the great outdoors regularly.
Aesthetics aside, there is plenty of room inside the 220-PL, and I especially liked the way the zipped lid opens away from the user – quite unusual for a backpack, but somehow more compact than the traditional design. With plenty of adjustable padding throughout, you can comfortably fit 2 pro DSLR bodies, a wide range of lenses, a couple of flash guns and assorted accessories inside.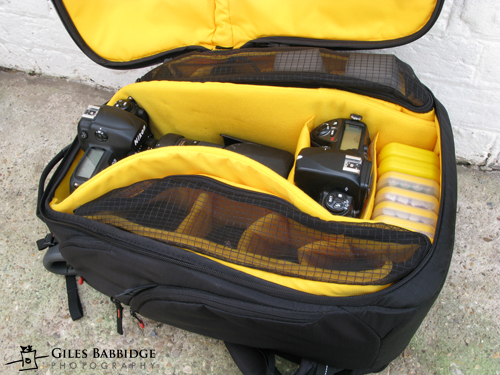 Now, you might expect me to say this, but flexibility is an important factor to consider with camera bag interiors; personally, I have never left any of my bags or cases in the same permanent configuration from day one. A stand-out feature of tha Bumblebee is the integration of two cocoon pouches, held in place by tough velcro patches.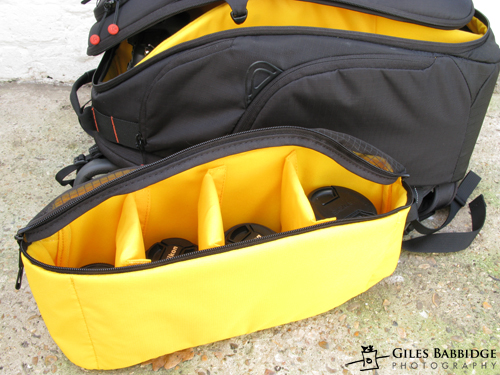 Each pouch features a double zip, which faces inwards, and tough mesh top panels to stop items moving about. Although I've not tried it, KATA do say that this bag can even hold a 500mm lens (with tripod collar removed) – so you can see that, by removing just one pouch, your options increase further.
My biggest criticism of the interior space is to do with the orientation of camera bodies. If you look at KATA's own illustrations, you'll notice that a camera is shown, complete with lens attached, at the base of the bag. I would never do this; all it would take is a rough landing on rocky ground and there goes your LCD screen, in spite of the padding. Surely there's a simple remedy, you might think – just put the camera at the other end.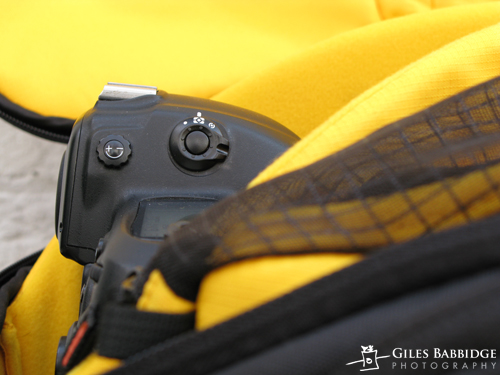 Um, no. Because of the downward shaping at the top end of the bag (both of the outher shell and interior padding), it was a job to zip the bag up with my D3 in place – because it extended above the line of the padding. Short of taking out one of the cocoons in order to broaden the centre section, which would frankly be a shame, I can see no other option than to place the camera body alone elsewhere in the bag. Not an ideal solution, again risking those all-important 'in-the-moment' shots.
—
Of course, the features of any bag are all well and good, but they are pointless if you can't comfortably carry the thing. And it's on this final point that I want to round up my Test/Review.
Gecko EVA foam harness straps are what you get with this bag and, to be honest, I couldn't get on with them.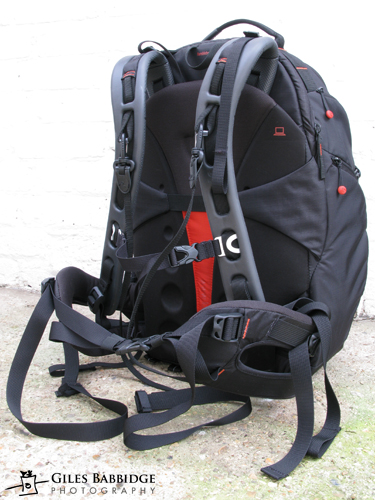 Even with the bag completely empty, no amount of adjustment and re-adjustment could put a stop to these straps digging into my chest, simply because they refused to lie flat. I'm afraid to say, it was no better around the back, either, with an awkward lump being created at the point where the straps disappear behind the back padding. Why KATA couldn't have taken the traditional route of anchoring them at the top of the bag, I have no idea – a case of over-engineering, perhaps?
Thinking practically to useage in varying conditions, I can also imagine these EVA straps creating sore points around the chest/shoulder areas on long, hot summer days as a result. Such a shame, because the waist belt (of a considerably more traditional design) was comfy and worked really well at transferring weight to the hips.
But look, I'm of pretty slim design myself, so people of a larger build might not have these same issues. The overall fit might be better.
Other notable features of the Bumblebee 220-PL… There's a separate double-sided rain cover (why couldn't an always-ready basic cover have been built in, tucking away into a pocket at the base?) and the function to turn the bag into a roller-case via the addition of KATA's Insertrolley. There are also a couple of detachable camera straps, too.
And so, here's my conclusion.
The KATA Bumblebee 220-PL is billed as a multi-featured professional backpack, with PL standing for Pro-Light. Whilst it is pretty light (weighing in at just under 3kg), for my money there are too many frustrations about it when considered with my own requirements in mind. Some are perhaps a little picky, but others I can see would become a problem over the course of prolonged use.
That's not to say you should write this bag off completely, far from it. Don't get me wrong, it is solidly built, offers great protection for your kit and would last a lifetime if you looked after it.
But as with all equipment designed to do the best job for its user, you need to find what works best for you.
Category: Product tests and reviews